Arsenal: Hakim Ziyech hints he almost joined Gunners before Chelsea
Hakim Ziyech has hinted that he almost joined Arsenal two years before he joined their Premier League rivals Chelsea in the summer.
When asked, at his most recent press conference, how close he came to joining another club before signing at Stamford Bridge, the Moroccan international said:
"Two years ago, I almost moved to somewhere else but it didn't happen.
"For myself, looking backwards now, I'm happy I didn't.
"Everybody knew already because it was in the media a lot."
Ziyech was linked to Arsenal
Indeed, Ziyech was linked with a move to the Gunners a couple of years ago and his agent wanted him to join Arsenal or Liverpool.
There was also a video that emerged of the 27-year old admitting that it would be his 'ultimate dream' to move to the Gunners or FC Barcelona when he was still an Ajax player.
Ziyech impressed at Ajax
Indeed, it was Ziyech's impressive displays for Ajax that would have caught the eye of the Emirates Stadium faithful.
The attacking midfield player scored 48 goals and made a further 82 assists in 165 games in all competitions for the Dutch side over four consecutive terms (Transfermarkt).
Could Ziyech have been an Ozil replacement?
Given the role that Ziyech played at Ajax, and the high amount of assists he achieved, he could be likened to Mesut Ozil.
Should Arsenal terminate Ozil's contract?
Yes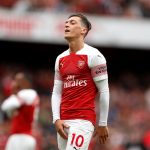 No
The 32-year old has recorded 77 assists in 254 matches over all competitions for AFC over the course of the last seven seasons (Transfermarkt).
However, given that Ozil has not played for Arsenal since the beginning of March, and that was recently left out of the Gunners' Premier League squad for the 2020/21 campaign, Ziyech could have been the perfect replacement for the German, who clearly needs to move on from the Emirates Stadium given his lack of playing time.
Ziyech is now at Chelsea
Ziyech is now playing for Chelsea instead, and Gooners around the world will now be hoping that the midfielder does not perform well for their club's London rivals!
Arsenal fans, find out what another transfer target has had to say on his future here, and do not forget to comment below!