Burnley: Micah Richards believes Clarets got away with "ridiculous" penalty decision in Sheffield United draw
BBC pundit Micah Richards believes that Burnley could count themselves very lucky over one particular moment from yesterday's 1-1 draw against Sheffield United.
With the deadlock yet to be broken in the first half on a windy afternoon at Turf Moor, the Clarets were defending a corner when Erik Pieters missed his attempted clearance and the ball struck his hand upon bouncing off the ground. Several Blades players appealed to referee Peter Bankes for a penalty but he was unmoved and a VAR check sided with the on-field decision. [via Lancashire Live]
When analysing the game on Match of the Day 2 last night, though, Richards insisted that the Dutchman was fortunate not to be penalised, saying [via Lancashire Live]: "He makes a mistake and tries to make up for it. It's a handball for me and it has to be a penalty. I can't understand how that is not a penalty. The ball comes in, he makes a mistake. It's ridiculous."
Did Peter Bankes get the penalty decision right?
Yes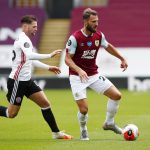 No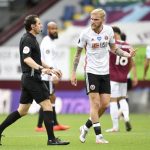 Richards makes a valid point in saying that Pieters could probably have done better defensively from that set piece. It should concern Sean Dyche that, even allowing for the blustery conditions, a 31-year-old defender with nearly 200 Premier League appearances should hit an air-shot when trying to clear from a corner.
Also, there is an argument to be made that he was lucky not to be penalised in the context of other handball decisions in recent days. On Thursday, Tottenham had an equaliser disallowed in their 3-1 loss at Sheffield United when, in the lead-up to Harry Kane's chalked-off goal, Lucas Moura appeared to be pushed to the ground, his arm falling onto the ball in his tumble and VAR duly disallowing the goal for handball (as per Sky Sports).
Two days later, Manchester United's Eric Bailly had a penalty given against him following a lengthy VAR review when he raised his arm to control a careless backpass. The ball seemed closer to the Ivorian's shoulder and struck him on the edge of the penalty area, so it seemed harsh for a spot kick to have been given.
With those instances fresh in the mind, Pieters was probably lucky not to have a penalty given against him. However, taking the incident in isolation, a spot kick would have seemed harsh, as the ball bounced up to strike the Dutchman's arm and he was looking in completely the opposite direction to the ball at the point of contact.
Richards is probably wrong in saying that it "has to be a penalty", although the Burnley man was indeed fortunate given some of the handball decisions in recent days, as well as his unconvincing defending from that corner. He may not be so lucky the next time.
Burnley fans, what did you make of Richards' views on the penalty decision? Have your say by commenting below!