Burnley: Jeff Hendrick couldn't be blamed if he wishes to leave amid Clarets contract chaos [Opinion]
Burnley midfielder Jeff Hendrick has been a wanted man in recent weeks, with clubs from England and Italy being linked with the 28-year-old, and it may not be long before he takes flight from Turf Moor.
The Republic of Ireland international is out of contract at the Clarets in just 11 days' time and, as revealed by manager Sean Dyche in an explosive press conference yesterday, neither he nor any of his team-mates with imminently-expiring contracts have been offered new deals.
Indeed, as mentioned by Lancashire Live, the players affected will need to have agreed terms as early as next Tuesday to ensure that they can feature for Burnley for the remainder of the season. Dyche is keen to retain the services of Hendrick but conceded that he would not blame the midfielder, nor any of those whose contracts expire at the end of the month, if he was reluctant to jeopardise his future by playing before then.
The Irishman has given four years of service at Turf Moor, contributing 10 goals and seven assists in 139 appearances for the club, and was a regular feature for the team in 2017/18 when they qualified for the Europa League.
With his contract set to run out, though, some rather illustrious sharks have been lurking. AC Milan (Sky Sports), Roma (Calciomercato) and Newcastle (Chronicle Live) have all been linked with a move for the 28-year-old, with each of those an attractive destination at surface level.
Roma are firmly in the hunt for a Champions League place and have a strong pedigree in the tournament, while AC Milan's rich history is bound to give them some clout, and Hendrick might want to try his luck in Serie A after spending all of his club career so far in England.
Conversely, Newcastle would offer him a chance to remain in a league with which he is familiar, while the summer could be a hugely exciting one on Tyneside if the proposed takeover of the club is approved by the Premier League and duly completed.
Will Jeff Hendrick still be at Burnley next season?
Yes
No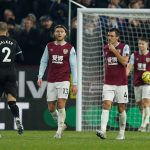 Also, at 28, Hendrick could well feel that he might never again get such enticing opportunities to play for clubs of that esteem; and with the Burnley hierarchy being quite slow to act on tying down a solid, committed first team regular to avoid him leaving on a free, he may feel that the time is right to make his next career move.
He couldn't really be blamed if he does, especially with the Clarets' board not exactly moving heaven and earth to extend his stay at Turf Moor.
Burnley fans, were you shocked to learn that Hendrick hasn't even been offered a new deal by the club with so little time left on his contract? Give us your thoughts in the comments section below!