Leeds fans take to Twitter to rave over incredible Jamie Shackleton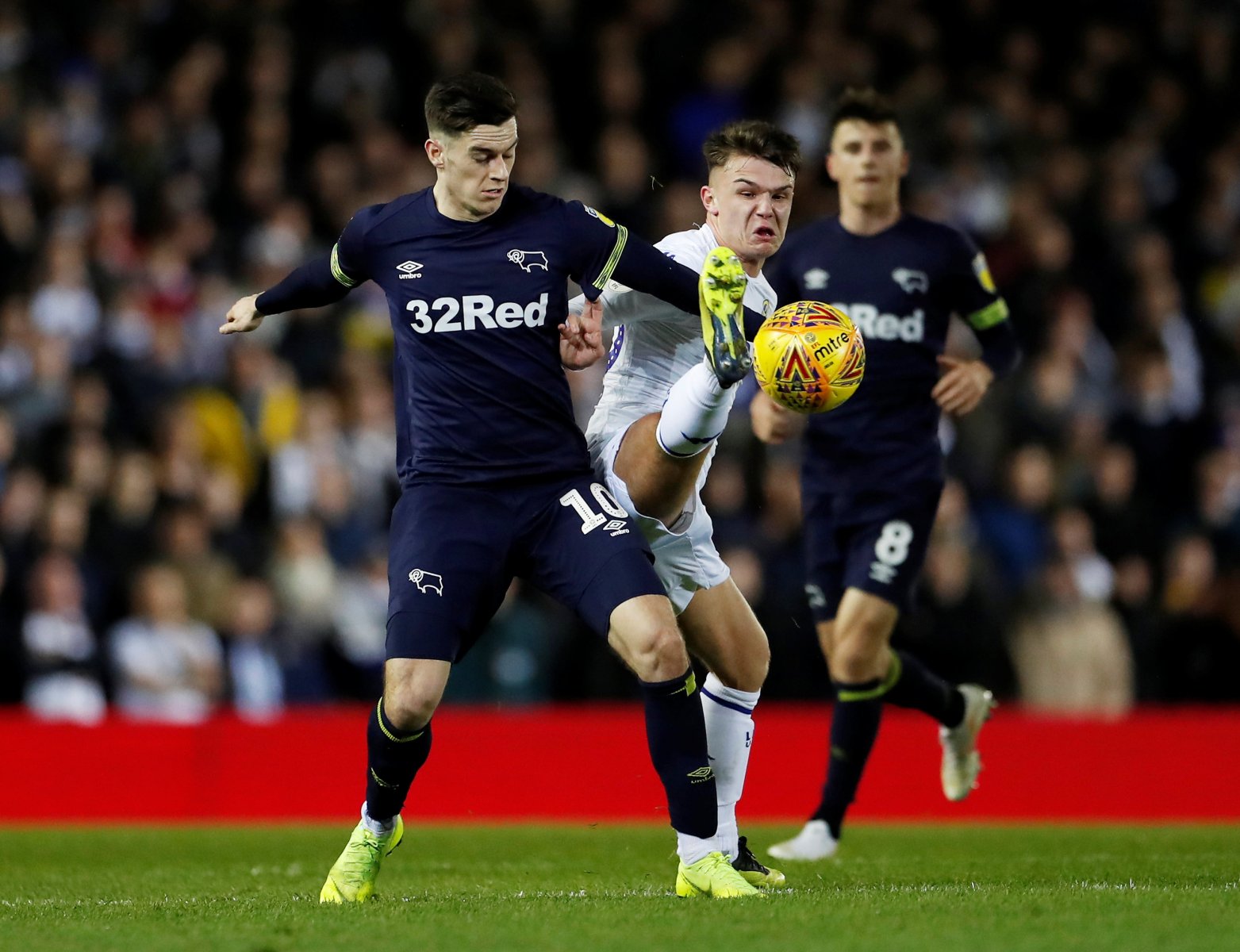 Leeds United put one foot into the playoff final yesterday. The Whites travelled to Pride Park to face Derby County and went away with a 1-0 win courtesy of Kemar Roofe. However, one player who should get a lot of credit for the win is Jamie Shackleton who had to quickly adjust to the tempo after being called upon from the bench on 22 minutes.
One of those scenarios today where the enforced substitution of Shackleton for Forshaw has done Leeds good. Shackleton's been superb. #lufc

— Phil Hay (@PhilHayYEP) May 11, 2019
Adam Forshaw started the clash and had to be withdrawn when he suffered an injury and had to limp off midway through the first half, adding to Marcelo Bielsa's injury woes. Pontus Jansson was expected to be ready to start but ultimately failed his fitness battle and didn't even make the bench for the first leg against the Rams, instead leaving Bielsa with a defensive pairing of Liam Cooper and Gaetano Berardi.
Shackleton was a more immediate change in the spur of the moment though. The young midfielder was called upon from the bench and even at the age of just 19-years-old, he was able to come in and shine for Bielsa's side. The Thorpe Arch academy man has a Transfermarkt valuation of just £450,000 but he came on and looked like a gem in his 65 minutes on the pitch, adding energy and creativity as his side won 1-0 giving themselves a lead to take back to Elland Road on Wednesday.
You can read the Whites' thoughts on Shackleton's display here:
Fantastic talent.

— Brian Thompson (@Brianthompson07) May 11, 2019
He's been superb every time we've seen him. Baffles me why he doesn't get more game time… Deserves a start in Wednesday

— Mattinho Got Game (@MattinhoGotGame) May 11, 2019
He plays with no fear, superb young player!

— Shane Garnham (@shane_garnham) May 11, 2019
Been saying that for a while he adds pace to the team

— Loz Carroll (@carroll_loz) May 11, 2019
Kid is better than forshaw, he also has the legs being so young! Needs to start at Elland Road

— LUFCMUNN (@brownmackers) May 11, 2019
#lufc Been saying this for a while. The lad was class.

— Ben Roscrow (@R0scr0w) May 11, 2019
He's what we've been missing, the lad is absolute dynamite

— James (@J_4710) 11 May 2019
Totally agree MOM for me he's the pace we have lost that Alioski wasn't given credit for

— Chris Jewell (@rhinos69111) May 11, 2019
I was buzzing new he wud mske the diffrence

— boogie (@Ryansut41183726) May 11, 2019
He's always on the front foot, plays without fear

— Lee Rudd (@ruddo78) May 11, 2019
Man of the match, superb for a young lad thrown in!!

— Aido (@89aido) May 11, 2019
The Whites absolutely loved seeing Shackleton shine off the bench and will be hoping the young midfielder does the same in the return leg on Wednesday.