Chelsea: Fans eager to see Michy Batshuayi leave the club following Instagram post
Chelsea are almost ready to take to the stage and resume their Premier League season, and the players have been working hard in training.
The club's official Instagram account has been getting fans excited for the league return by posting images and videos of the Blues preparing for their match against Aston Villa.
One post in particular has got a lot of fans talking. The social media admins uploaded a clip of Michy Batshuayi firing a long-range shot into the back of the net during a session at Cobham.
Should Chelsea keep or sell Michy Batshuayi?
Keep
Sell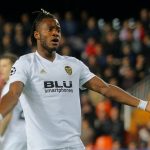 https://www.instagram.com/p/CBTGBV9pi_4/
Despite his form on the training pitch, the Belgium international has played just 16 Premier League games this season, scoring only one goal (via Transfermarkt). His position at the club came under threat when Frank Lampard opted to utilise Tammy Abraham as his first choice striker, and the English youngster hasn't disappointed.
As a result of Abraham's impressive form this term (13 Premier League goals), Batshuayi has become less and less involved, and many fans believe a summer exit is on the cards judging by the replies to the aforementioned Instagram post.
Chelsea are currently linked to some big names, including Kai Havertz, and they have also agreed terms with Timo Werner, who will likely be their marquee signing ahead of next season. Such signings will only see the Belgian become more of an outcast at Stamford Bridge.
Do you think the club should keep or sell Michy Batshuayi this summer? Have your say in the comments below…