Player Zone: Christian Pulisic could seriously upset Arsenal in FA Cup final
This season's FA Cup final is now just hours away and Frank Lampard's side will hope they can clinch their ninth title.
This evening's Wembley clash will be doubly heated as two London sides prepare to lock horns in a fight that is guaranteed to entertain.
Who will win this season's FA Cup?
Arsenal
Chelsea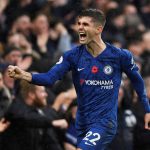 Arsenal will be eager to catch Chelsea on a bad day and beat the odds to secure some silverware to round off an otherwise poor season. However, Lampard has some seriously threatening options in his roster and one man in particular could be huge thorn in the side of the Gunners.
Christian Pulisic has already proved he is dangerous in attack, but team that up with a huge occasion and we could see a completely new gear to his influence. Since English football resumed, the winger has been involved in six goal contributions after making a superb comeback from an injury earlier this term (via Sofascore). His impact has impressed both fans and professionals with Lampard boldly claiming he could be as good as Mohamed Salah and Sadio Mane.
Pulisic could really cause a headache for David Luiz, who has been majorly prone to errors this season. According to Sofascore, the Brazilian has been at fault for two opposition goals in the Premier League this campaign and has committed a worrying five fouls which led to a penalty.
If Lampard's American goal-getter can target Luiz with his impressive pace and dribbling, the defender could have a mistake in him which could gift his former side a crucial goal at Wembley.
It's likely Arsenal won't want to push too hard too early, as to not leave themselves exposed to a Chelsea counter-attack.
However, the likelihood of wingers Willian and Pulisic pressuring Arteta's defence into a mistake is high and Arteta will just hope his men can keep their heads.
How do you think the FA Cup final will play out? Let us know your thoughts in the comments below!