Chelsea: Willy Caballero breaks his silence over Kepa Arrizabalaga issues
Willy Caballero has spoken out about the uncertainty of Kepa Arrizabalaga's future with the club.
Chelsea's second-string goalkeeper could be looking at the huge responsibility of helping his side to FA Cup glory against Arsenal. Usual first choice Kepa was dropped from the starting XI after he conceded five goals to Liverpool earlier this month. Caballero was called up between the sticks for Chelsea's final game of the Premier League and was able to keep a clean sheet against Wolves.
Which goalkeeper would you rather see Chelsea sign?
Jan Oblak
Marc-Andre ter Stegen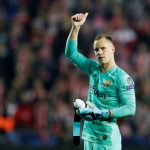 This will give the Argentinian a huge boost of confidence if Lampard does call upon him again. But he has finally broken his silence over the difficult goalkeeper situation going on in West London.
"Of course I hope he stays," Caballero told the Daily Express. "I have known him for two years. Last season was very good for him.
"This season there were some other things happening, but last year was fantastic. He is still the No.1 goalkeeper for Spain, and is a great goalkeeper."
It has been made clear that Lampard is not happy with the level of performance Kepa has put in this season. As a result, the Blues have been linked with several new additions, including major transfer targets Jan Oblak and Marc-Andre ter Stegen.
Despite the fact Kepa moved to Stamford Bridge in a record £71million signing, Chelsea appear to be unfazed by the wasted money and just want to bring in a new shot-stopper.
"He has been behind me, helped me with everything in the games that I have played," Caballero continued. "Thats all I can say about Kepa. He has shown me and all of us a great face, even in the worst moments for him. That is so professional from him.
"The way that he worked during those weeks and in the last week, he was excellent."
How do you feel about Willy Caballero's comments, Blues? Join the discussion in the comments below…