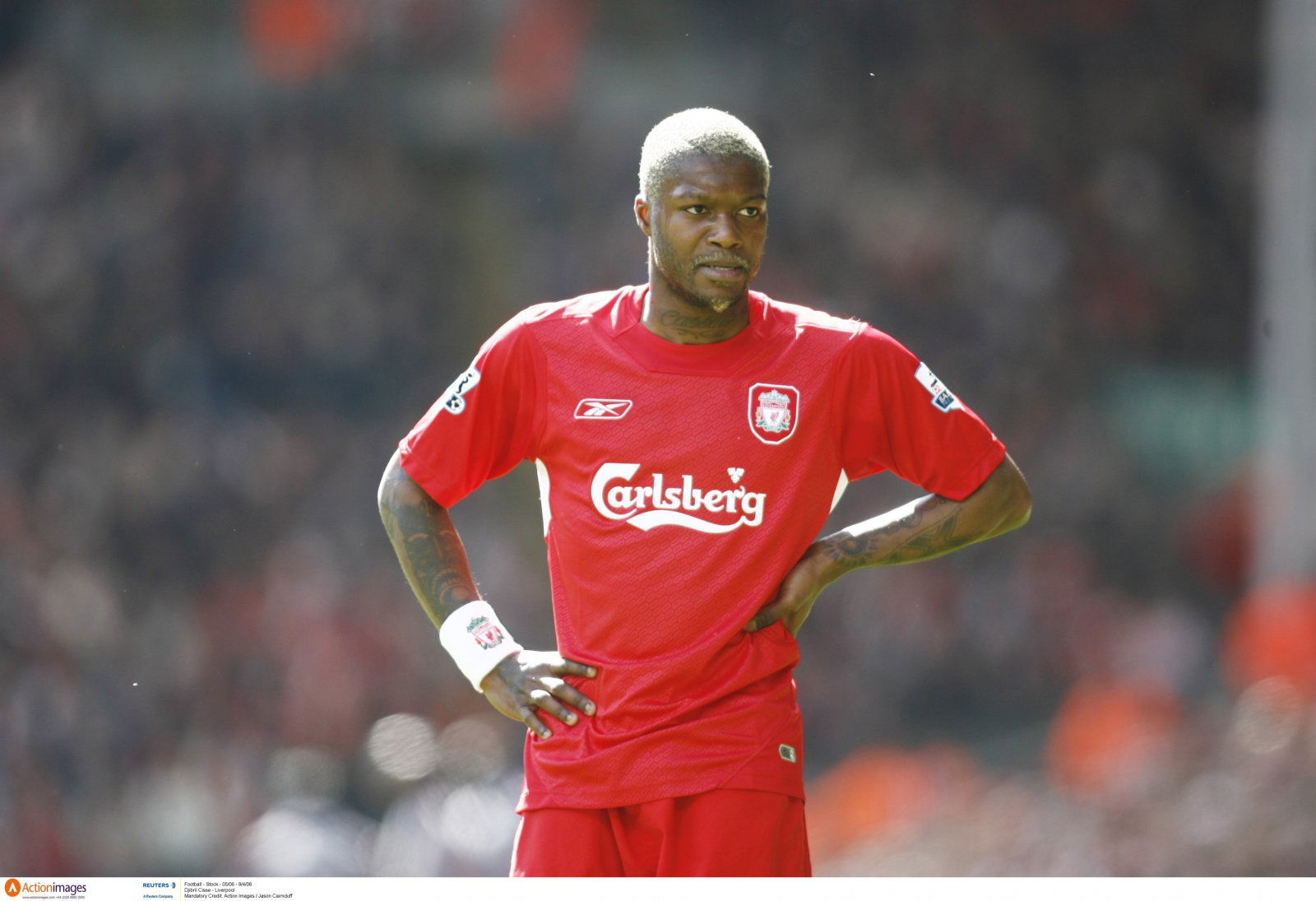 It takes a special kind of average for a player to be remembered solely on their injury and, hats off to him, Djibril Cisse managed just that.
The Frenchman made his much-anticipated move to Anfield in 2004 after impressing then manager Gerard Houllier for a number of seasons. Indeed, at his former side Auxerre, Djibril Cisse collected a very respectable 87 goals in 164 appearances in all competitions – 26 of which came in his final 38 league games for the club. So, understandably, expectations were high.
The plans were set; Liverpool had their star, Houllier had his man, Cisse was primed and ready to make waves in the Premier League. Everything was happy. Until, of course, the very individual who had pursued him for so many years left the club. After six years at Anfield Houllier was politely shown the door and never got to work with the man he had admired for so long – all he could do is watch from afar as former CEO Rick Parry introduced his signing:  "Cisse is a very exciting player with a good goalscoring record," Parry said (via Daily Mail).
"He has pace and power and all the qualities a modern striker needs. He is someone who we believe is capable of scoring 20 goals a season."
Nice and generic.
After just 15 games and three goals for the club, a pretty shocking record all things considered, the unthinkable happened.
There are certain moments in footballing history that cause us to wince uncontrollably, Eduardo Da Silva's horrendous leg break against Birmingham, Luke Shaw's Champions League cruncher suffered against PSV, Aaron Ramsey's shocker against Stoke and Roy Keane's career ending tackle on Alf-Inge Haaland. None, however, were as freakishly unlucky as Djibril Cisse – not that breaking a broken bone is ever considered fortunate.
Indeed, for the Frenchman there was no valiant tale to be told of coming off worse in a brave 50/50 challenge, no hero or villain, no nothing. Rather, Djibril Cisse was cruelly deprived of a large portion of his Liverpool career because of a piece of unforgiving turf he lodged his foot in. So Ewood Park, if anything, is responsible for snapping both his tibia and fibula – doesn't sound quite as cool, does it?
After six arduous months out of the game, Cisse finally made a comeback featuring as a substitute in nine of the ten remaining games including the iconic Istanbul final – scoring Liverpool's second penalty in the shoot-out.
The following season would prove to be as fruitless as the first. Inconsistency was a major problem for the forward and where baron spells as a striker could perhaps be excused if the player was working exceptionally hard in other aspects of his game, this just was not the case for the Frenchman.
Despite another leg break stalling an earlier move, Liverpool eventually offloaded the striker back to France with Marseille the suitors (as per Sky Sports). A prosperous stint which saw him net 22 goals in 50 games should have marked a new beginning for Cisse outside of the Premier League, but he just could not stay away. In August 2008, he made a brief and uneventful return to the English top flight this time playing for Sunderland on loan.
The Black Cats rejected the chance to sign him on a permanent basis kicking starting an unprecedented journey through the footballing world.
Cisse netted 23 league goals in his first season in Greece helping Panathinaikos to the title in 2010. He added a further 20 to his tally the following season and his efficiency earned him a four-year contract with Lazio in 2011. Unfortunately, Italy proved a bridge too far for the player and after just a single campaign with the club he found himself back in England playing for every flops favourite dumping ground, Queens Park Rangers.
Qatar and Al Gharafa were next in line before Kuban Krasnodar signed him during summer 2013.
Though his consistency on the pitch could be questioned, the periodic frequency in which he found new teams could not. Just 24 matches after moving to Russia, he found himself back in France first playing for Bastia and then, surprisingly, Saint Pierroise, a club based in the French Indian Ocean territory of La Reunion in the sixth tier of French football.
His 'retirement' lasted just two years before Swiss third-tier side Yverdon Sport signed him in 2017, where he scored 24 times in 29 appearances.
Now at Vicenza 1902, a phoenix club of Vicenza, Cisse's career has been left in limbo after the club's application to join the Serie D was refused (as per Sportellate.it)