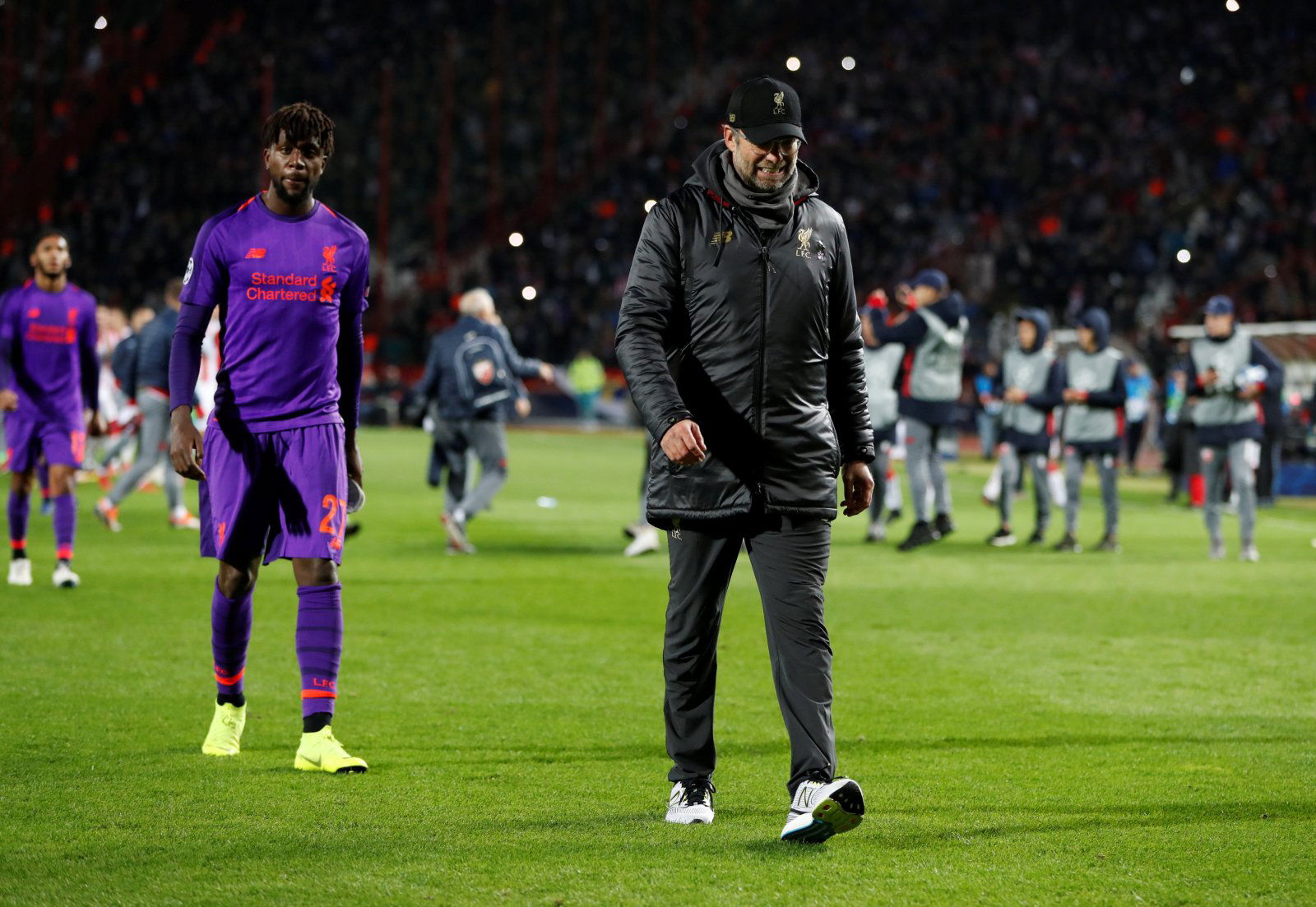 Liverpool supporters have been very despondent in recent times after seeing their team suffer defeat in the Champions League on Tuesday night.
Jurgen Klopp's men went into their clash with Red Star Belgrade having won two and lost the other of their opening three group stage matches, and thus in prime position to qualify for the last 16 sat at the top of Group C. Yet the Reds produced a lacklustre display in the Serbian capital on Tuesday night as a brace from Milan Pavkov sealed a routine 2-0 success for the home side, thus instigating Liverpool's fall to second place in the group behind Napoli, who they face in the final round of group games next month.
As such, there have been many disappointed Liverpudlians up and down the country in recent times, several of whom are likely to be intrigued by recent comments from Sky Sports pundit Tim Sherwood, who has said that while defeat on Tuesday night is a 'reality check' for the Reds, it's not a result they should dwell on too greatly, stating that they should look at it 'a bad day at the office'.
And the former Tottenham manager is absolutely spot on with his verdict on what the defeat means for the Merseysiders in the grand scheme of the competition – it is certainly not the end of the world.
Yes, Klopp's side were nowhere near the level they have produced for much of this season and indeed last term against Red Star on Tuesday night, with several players underperforming on what was a desperately disappointing night for the Reds.
However, they are still in a decent position to qualify for the last 16 in sitting second in Group C with two matches to go, and while those two games are against Napoli and Paris Saint-Germain, they only have to look back at last season, and indeed the early phase of this term, to know that they can get the job done on the European stage.
Klopp's men outplayed French champions PSG to win 3-2 at Anfield in the competition back in September to suggest that they shouldn't fear going to the Parc des Princes at the end of the month, while they almost came away from Naples with a point last month to suggest that they can certainly match Carlo Ancelotti's Napoli.
Add in the remarkable run Liverpool had in getting past Manchester City and Roma en route to the final last season, and the Reds shouldn't fear anybody in the competition – and Tuesday's defeat shouldn't dent that confidence one bit either.
Yes, Sherwood is spot on to suggest that defeat against Red Star is a 'reality check', given it was a game very few expected Liverpool to lose, but it's also one they mustn't dwell on too greatly – it was a rare off-day, perhaps their only off-day, in what has been an excellent start to the season.
In fact, it could prove to be a blessing for the Reds as the season wears on, knowing that they won't have things all their own way even in matches they would expect to win.
So while Tuesday's defeat was a deeply frustrating one for Klopp and his team, Sherwood hits the nail on the head by hinting that they mustn't dwell too much on the defeat – after all, they are still in a good place to qualify for the last 16.
Liverpool fans… what do you think? Let us know!