Flashback: Celtic fans have their say on Steven Gerrard's appointment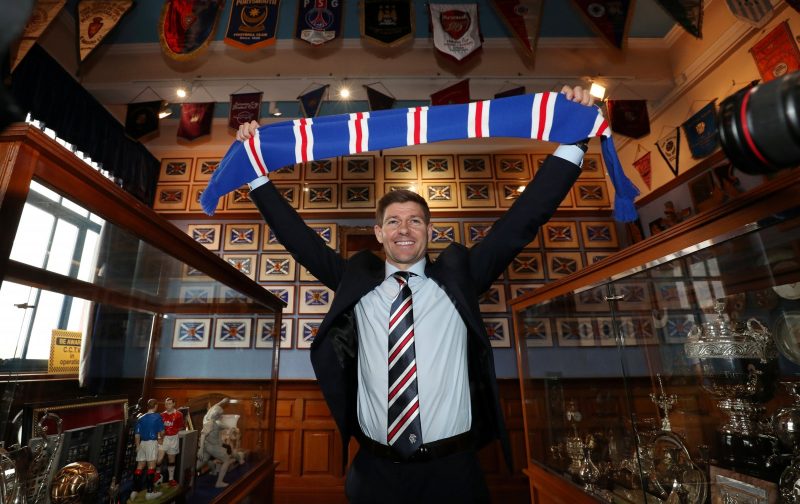 Summer 2018 was a big one in Scotland. Steven Gerrard's appointment at Ibrox was a big one that shook up the Scottish Premier League. Celtic fans sat back and watched on as they knew that Brendan Rodgers was still the right man for them, and even as Parkhead hero Chris Sutton tweeted to congratulate Gerrard the Hoops were fearless.
.@btsportfootball Very courageous of Steven Gerrard taking the Rangers job Good luck to him!! Brilliant news for the Scottish game… Rodgers v Gerrard… Lovely

— Chris Sutton (@chris_sutton73) 4 May 2018
You can't blame them either. They predicted at the time that Gerrard would do little to impact their dominance, and almost 12 months later the Gers are still trophyless whilst the Bhoys have gone on to win their eighth successive Scottish Premier League title and are just one more win in the Scottish Cup final away from a spectacular treble-treble.
However, Gerrard's appointment was more than just a supposed quick fix at Ibrox. In fact, the quick fix option was ever going to be on the table no matter who was appointed. Instead, getting Gerrard in showed long-term thinking, and whilst he may not have enough time to stop ten in a row, the Bhoys should certainly be worried for the future if the Liverpool hero sticks around.
You can see what the Hoops had to say when Gerrard was appointed here:
Still won't compete with us tbh..

— Kelly McGeachy (@kellybaby3) 4 May 2018
He'll be gone by Christmas with his management career in tatters. #comedygold

— (@7govscott) 4 May 2018
You could buy a Ferrari today Chris, but if you don't have the money to buy the petrol to run it, it's not going to go very far. Stevie G will feel like Honey G by Christmas.

— Roddy MacKay (@The_Badgeman) May 4, 2018
It's going to be embarrassing….. #Sevco does it again!!!

— Joe Hamilton (@JoeHamilton57) May 4, 2018
Courageous???? He's being paid well to manage an awful football club

— L. (@lukedonnelly7) May 4, 2018
Perfect plan! Good news for us. #10INAR

— LouMun 67 (@lfmunro) 4 May 2018
Brendan will see him off at Christmas.

— No na now (@ree_law) May 4, 2018
Hope he goes along the same as the last few Sevco managers and is well and truly put back in his place by Celtic FC

— gerardmcgrath (@gerardmcgrath03) May 4, 2018
The Bhoys had no faith in Gerrard changing the scene in Scottish football and so far they've only been proven right.