Transfer Flashback: Jermain Defoe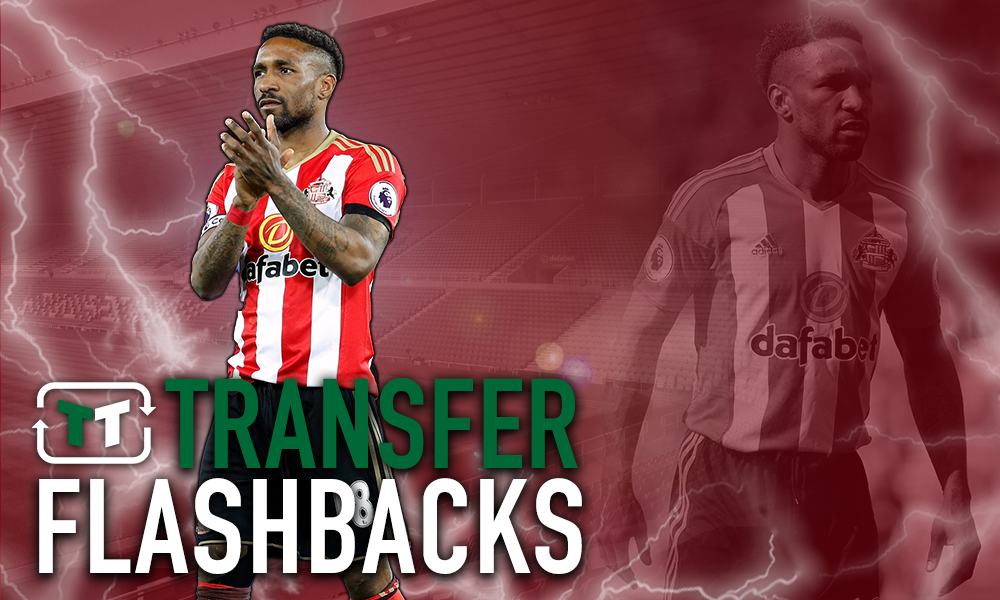 On January 15 2015, Sunderland signed former Tottenham hotshot, Jermain Defoe on a three-and-a-half-year deal which saw the terrible Jozy Altidore join Toronto FC. 
Many had thought that Defoe had headed to America to finish out the rest of his career but in truth, the striker had gone too early and rightly left after only completing 11 months of his four-year deal.
The striker came with plenty of pedigree and it seemed a relief that the club finally signed a reliable goalscorer. Therefore, it was quite right for the fans to be happy with the signing.
@SunderlandAFC @IAmJermainDefoe About time we signed a scorer who knows were the net is 44-2 a hope

— Kevin Charlton (@cc30ee04f89d445) January 16, 2015
@SunderlandAFC @ReeceDunn712 @JamesDunn94 Made my day #ftm #hawaythelads

— pauldunn (@SAFC_PAUL) January 16, 2015
@SunderlandAFC @IAmJermainDefoe welcome mate, can't wait to see those goals.

— SJ (@MadMackemuk) January 16, 2015
@SunderlandAFC @IAmJermainDefoe This picture has broke me into a thousand peices.

— K (@keelan_f) January 16, 2015
@SunderlandAFC @IAmJermainDefoe pic.twitter.com/sMZku72K3D

— Sam (@samrichardson26) January 16, 2015
In 19 games Defoe scored 11 goals in the MLS and it was quite obvious that he was too good for the league. At first, however, it wasn't certain if Sunderland had made the right move but in fairness to the striker, he was played on the wing in Dick Advocaat's side which severely limited his influence.
As a result of being played on the wing for almost half of his appearances during the season, Defoe only managed to score four goals in the league.
In his second season, however, Defoe showcased his superb goalscoring ability as he scored 15 goals in 33 games for Sunderland and was the main reason the club managed to stay in the league.
Their relegation fighting fortunes continued into the following year and under David Moyes the Black Cats were again fighting at the bottom of the table but as the club's poor fortune continued so did Defoe's goalscoring. The former Tottenham man scored another 15 goals for the club but this time he couldn't stop his side going down.
Following the end of the season, Defoe's contract expired and he signed a three-year deal with Bournemouth. So far on the south coast, Defoe has struggled to replicate the form he showed during his time in the north-east.
It may have ended badly but overall, the Black Cats fans were right to be excited by Defoe's arrival.
Sunderland fans, what do you think?