Transfer Flashback: Jordan Rhodes to Middlesbrough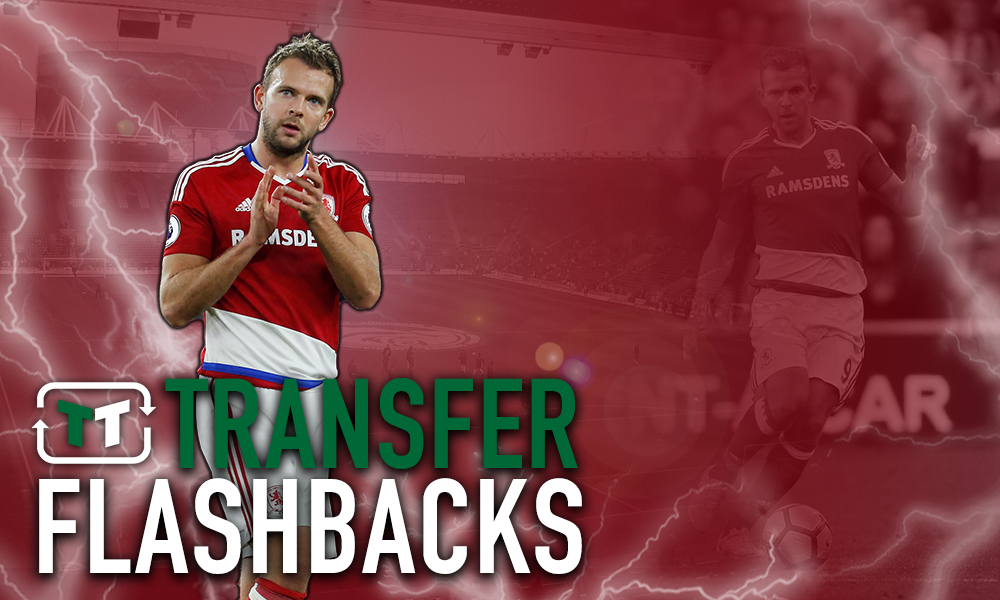 On February 1st 2016, Middlesbrough announced the signing of Jordan Rhodes from Blackburn Rovers for a reported initial £9 million.
The 28-year-old made his debut against former club Blackburn Rovers, but he had to wait until the following match to score his first league goal for the club against Milton Keynes Dons.
A lot of supporters were over the moon with the club's decision to secure the services of Rhodes, as they took to the confirmation on Twitter to express their delight over the signing.
@Boro @OneRovers promotion imminent

— Lewis Vigilante (@lewis_vigi) February 1, 2016
@sambo563 @Boro @OneRovers @JohnJcarter123 get in mate, delighted with that deal!hopefully fire us to promotion

— Lip MFC (@Dannylippy) February 1, 2016
@Boro @OneRovers great signing, about time someone snapped him up. Stagnating at Blackburn.

— Marc Suffolk (@MarcSuffolk1) February 1, 2016
@Boro Brilliant news!

— Borolass (@Borolass11) February 1, 2016
@Boro @OneRovers Promotion is now ours to lose

— Paula Hawley (@paulapeepee) February 1, 2016
@Boro @OneRovers – Steve Gibson is a legend around these parts. #letsfilltheriverside. It is the very least this man deserves!

— PaulieBoro (@paulieboro) February 1, 2016
Jordan Rhodes began his career at Ipswich Town and then went on to sign his first professional contract with the club, before being sent out on loan to the likes of Oxford United, Rochdale and Brentford.
Rhodes signed for Huddersfield Town in 2009 on a four-year contract for an undisclosed fee believed to be £350,000, which was the start of the best years in his football career so far. He managed to score 23 goals and provided nine goals during his first season, and then went on to score over 60 goals in the next two seasons.
Rhodes joined Blackburn Rovers on 30 August 2012, for a then club record £8 million fee, scoring 83 goals in three-and-a-half seasons at Ewood Park.
On the 1st of February 2016, Middlesbrough signed Jordan Rhodes from Blackburn Rovers for £10 million, in what was a big-money signing for the Championship club.
Boro failed to get the best out of the Englishman as he was only able to score six goals in 24 appearances, including a goalless first half of the season in the Premier League, which contributed towards their relegation.
It's safe to say that the forward produced some of his worst performances during his time at the Riverside Stadium, which didn't go down very well with supporters.
The striker was one of the hottest topics when he joined the club, but it turned out to be a terrible agreement.
So, it's understandable that fans were so excited about their side splashing the cash on a big-money signing back in 2016, but he proved to be one of their worst signings as he just couldn't ensure a consistent flow of goals and was hugely disappointing in the Premier League.