Transfer Flashback: Kyle Walker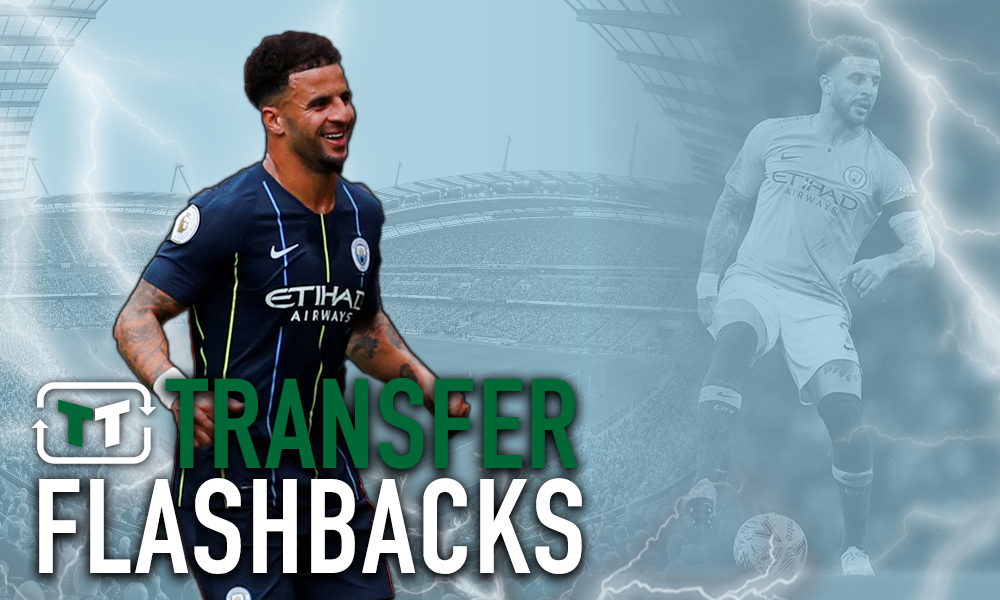 After an underwhelming first season at the Etihad, Pep Guardiola identified defence as the of area of his Manchester City squad that needed urgent surgery if the Citizens were to challenge for the title.
As a result, the club moved for Tottenham right-back Kyle Walker, among others, in a deal that left supporters delighted.
BEST RIGHT BACK IN THE LEAGUE!

— • (@Beardamendi) July 14, 2017
Get in!!!!

— Jake (@Everything_City) July 14, 2017
Finally!!

— Pictured City (@PicturedCity) July 14, 2017
We have a fullback pic.twitter.com/kLhyGhEl7I

— • (@ThePepPlan) July 14, 2017
Best right-back in the league !!!

— SaifBZ (@SaifAlmazroui) July 14, 2017
tears in my eyes

— Jad Azoury (@JadAzoury) July 14, 2017
yessss somggggggsnsjakagshajakahahajajanzvxhsjaja

— KD (@ManCityKD) July 14, 2017
WALKER ANNOUNCED
HE CAN PLAY RIGHT BACK
HE CAN PLAY RIGHT BACK
HE CAN PLAY RIGHT BACK
HIS NAME IS KYLE WALKER#WelcomeKyle

— Iddin (@khairyizuddin) July 14, 2017
At the £45m+ (BBC Sport) Manchester City spent on Walker, the signing of the 28-year-old brought debate with many feeling it was an unjustifiable fee.
And when considering the club had looked close to signing a world-class right-back like Dani Alves on a free transfer (Daily Mail), the deal probably came across even worse to those who had their initial doubts.
However, in Walker's defence, he had been the best right-back in the country in the run up to his big-money move.
With that status and with Daniel Levy involved in the negotiations, Walker was never going to be sold for a bargain price.
Whatever the case, regardless of at how much, Manchester City desperately needed a high-quality right-back, something which Walker clearly is.
The team were killed at full-back during Guardiola's debut season with the likes of Gael Clichy and Pablo Zabaleta simply done at that level.
However, with Walker in the side, Manchester City improved significantly as they went on to win the 2017/18 Premier League title with a record 100 points.
By no means is the England international the perfect right-back with his positioning sometimes coming under criticism, while his addition alone was not the sole reason for the Citizens' recent title triumph.
But with his pace, strong tackling and aggressiveness, defensively, Manchester City have been much better compared to the campaign prior to his arrival, making him a smart purchase overall.