Barcelona: Fans urge Luis Suarez to use Antoine Griezmann
Luis Suarez is one of the greatest strikers to have played the game during the previous decade. 
He was a star for Ajax and Liverpool prior to his move to Barcelona in 2014, where he has gone on to write his name in the history books for the Blaugrana by scoring 185 goals for the club – in turn becoming the Catalan outfit's fourth-highest goalscorer.
Should Barcelona sign Lautaro Martinez?
Yes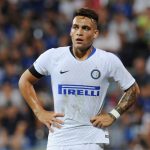 No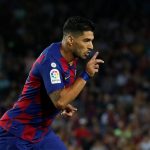 This season alone, the South American has notched eight goals in all competitions for Barca, with his latest effort coming in a 5-1 rout over Valladolid on Tuesday evening.
Although he is now meandering towards the back-end of a glistening career and turning 33 in January, there is no doubting that he still has plenty to give at the top-level, even if his contributions may start to come from the substitutes' bench, with the likes of Antoine Griezmann adding some serious competition in attack.
With all of that in mind, it is extremely bizarre to see Suarez gain such hatred from a large portion of Barca fans – many of whom have quickly forgotten all he has done for the club during the previous five seasons – and feel as though he should move on from the Camp Nou and let Griezmann take centre stage.
Indeed, the former Liverpool man does not seem to be in supporters' good books right now, with some even feeling that he ignores Griezmann on the pitch…
Pass to griezmann

— Muhammed Khan (@mokhan2k) October 30, 2019
Legend my foot…that useless fatty cant even ckntrol a ball..cant pass, cant driblle, slow snail, worst ball control..only scored this many goals bcz of messi, iniesta and neymar..but flopped UCL against tough teams for 4 years…biggest fruad in club history…🤮🤮🤮🤮🤮🤡🤡🤡

— EspaiBarca (@BarcaEspai) October 31, 2019
Why you treat so bad with griezmann? Why you don't pass to him? This is really disgusting. He is top player (barca needs him to win cl)

— apirat (@apirat21967495) October 30, 2019
now a days #suarez is a huge problem for barcelona…run making ability, space creating ability everything is ordinary now..this quality doesn't fulfill barca requirement..

— Minhajul Islam Jim (@JimMugdho) October 31, 2019
Thank you for all but please stop starting every game you can't play the whole 90 minutes especially in tough games.. Please for your sake and for ours

— ohha (@diaha1819) October 30, 2019
Thank you so much for all you've done, now is the time for a well deserved rest.

— BayorLawal (@bayorlawal) October 30, 2019
Barca fans, do you think Suarez's time in Catalonia is coming to an end? Comment below!