Barcelona: Many fans think Samuel Umtiti should be starting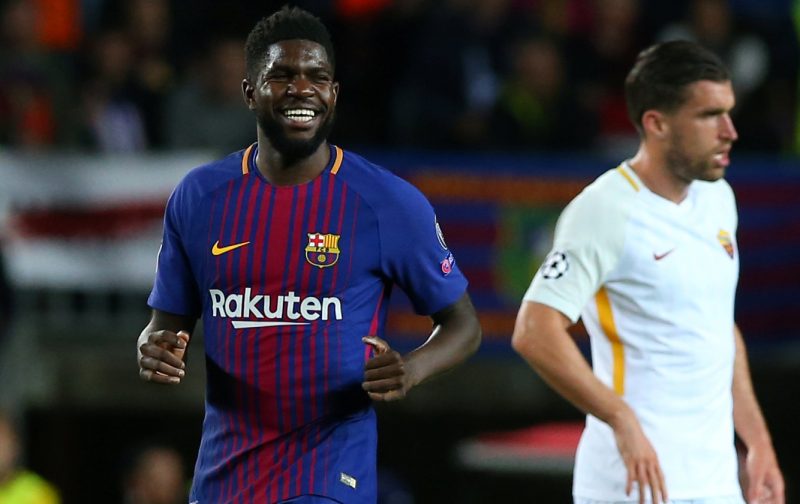 Samuel Umtiti is yet to play a game for Barcelona this season, through a mixture of not being selected and sustaining an injury. Now, according to Sport, he's returned to full training. 
The World Cup winner watched on from the bench for the first three matches, before he missed the rest with a foot injury, as per Transfermarkt.
Prior to this setback, the Frenchman had missed a total of 48 games through injury since signing in 2016, though with his return set to be in the coming weeks, the question has been posed about whether fans would like to see him start when he is back:
Survey — Do you think Umtiti can become a starter again for Barcelona? pic.twitter.com/i1Pp4xJtsV

— Barca Universal (@BarcaUniversal) October 15, 2019
Despite some supporters being wary of playing the 25-year-old due to the prospect of him having another setback, there are those who still believe he is a better option than Gerard Pique and Clement Lenglet, who have played 10 and 9 games this season respectively.
In Barca's 10 games across the Champions League and La Liga, they have kept three clean sheets so far, a tally some fans in the replies don't think is good enough – the feeling seems to be that Umtiti is the man to help improve it.
A selection of Twitter reaction to the question, including posts from decisive Barcelona fans, can be seen below:
The last season Umtiti was fully fit we had one of the best defensive records in the league. Lenglet has been great but he can be very sloppy at times. That's why we rarely keep clean sheets now.

— erick (@kciremartinez) October 16, 2019
Tbh

Iff he gains dat mad form, nd is fit, why not…

He's, IMO, at his best, better dan Lenglet…

But badly outta form

— Thorpe (@The_Thorpe10) October 15, 2019
I share this opinion too.
Mans quite good strong I feel he's a better passer of the ball compared to leng… I really just want titi back at the back… That guy is a shield

— BeanieMan (@StarkParsifal) October 15, 2019
I cannot believe all the people doubting Umtiti. Was genuinely our best defender two seasons ago. He was injured, he's back. Football is played with your mind and your feet help you, not any other way. Umtiti is a world class defender. He needs minutes to get to his usual self.

— Kaine (@Kaine19049248) October 15, 2019
He should be starting over Pique! Pique is not the same anymore and now his long legs are a PK hazard.

— InFamousM3L (@InFamousM3L) October 15, 2019
Let's hope he doesn't get injured again and for me he is one of the first names on the Squad list

— elrik (@elrikofficial) October 15, 2019
Barcelona fans, do you think Umtiti should start? Join the discussion by commenting below…