Leeds: Whites fans discuss Phil Hay's major update on Ben White's future
Leeds fans have taken to Twitter to discuss Phil Hay's update on the future of Ben White.
Leeds fans react to The Athletic journalist Phil Hay's claim that it is difficult to see Ben White being at the club for next season.
The central defender has spent the entirety of this campaign on loan at Elland Road from Premier League side Brighton, and has become a permanent fixture in the back-line for Marcelo Bielsa's side.
As per Transfermarkt, he has made 40 appearances across all competitions this season, playing the full 90 minutes in every single Championship game in the Whites' bid to earn promotion back to the top-flight.
Will Leeds manage to sign Ben White this summer?
Yes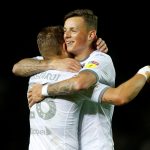 No
Reports in recent weeks and months have suggested that Premier League leaders Liverpool are keeping tabs on White ahead of a potential move this summer, and now Hay has echoed the sentiment that Leeds will find it difficult to keep him at Elland Road.
Speaking on The Phil Hay show, he said: "The more I speak to Leeds about White, the more I sense a resignation about him not being here for a second year. His attributes are tailor-made for a top six club. Ironically the effect of Bielsa's impact is that he is now such a prospect that Leeds won't be able to compete."
After hearing Hay's update, Leeds fans took to Twitter to voice their thoughts on the situation.
Ben is a great talent, really good footballing defender, but top 6 right now, no chance. He has still so much to learn positionally and lacks the strength he'll eventually need. The fact Brighton have two centre halves they wouldn't swap for him tells you exactly where he is.

— Tiddy (@PureLeeds) April 25, 2020
Thanks for lightening the mood Phil

— Jordan Talbot (@TalbotJordan) April 24, 2020
Ben White was nowhere and is what he is because of Bielsa's coaching in less than 12 months. He should recognise that and know he might not replica this anywhere else. Big risk leaving Leeds

— Mick Pease (@Mickpease1) April 24, 2020
Cheers, all Leeds fans are crying. Nice one.

— Tunaaaaaaaaaaaaaaaa (@BasicallyATuna) April 24, 2020
His loss lads . Nobody is bigger than the club

— CmDlEeDs1983⚪🇮🇪👌 (@DonaghCillian) April 24, 2020
Hope not Phil. Haven't listened to the story. But players will always do what they are advised to do or what they are contracted to and then there is the $$$$.
Can be no doubt that everyone in that squad is better, fitter, more professional and that's because of Bielsa

— Shane Hunt (@Rhymingoz) April 24, 2020
I mean it's a shame but it's hardly a surprise is it? Given the fact no option to buy agreed. He's done superbly and top prem clubs interested etc.. the world was ending when jansson left and it got better

— David Martin (@bhercules) April 25, 2020
That's that then

— jayjay82 (@jwh1982) April 24, 2020
Missing football!? There's still plenty of Leeds discussion going on in the Vital Leeds Forum! Click here to get involved!