Liverpool: Fans love video of comeback against Barcelona
Liverpool have managed some magnificent comebacks in the past, but very few could top their 4-0 victory against Barcelona last year.
Istanbul in 2005 may just have the edge, but the victory over the Spanish side was something special. The Reds were 3-0 down going into the second leg of their Champions League semi-final, and they needed something rather special to progress to the showpiece in Madrid.
Fortunately, that is exactly what they got. Divock Origi and Georginio Wijnaldum both scored braces on an incredibly special night as Anfield rocked with the result. The fact that both Mohamed Salah and Roberto Firmino were unavailable made it even more remarkable.
Which is the best ever Liverpool comeback?
Liverpool 4-0 Barcelona, 2019
Liverpool 3-3 AC Milan, 2005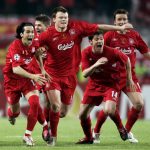 That famous win occurred a year ago today and, as you can imagine, numerous Reds supporters have enjoyed reminiscing about the result thanks to a video shared on Twitter by The Anfield Watch. These fans have taken to the social media platform to share their thoughts, and you can see some of the best comments below.
Still brings tears to my eyes… @Masiya_Mabaso @PapiZwane @Wanda_Sgemza

— Dube'limthende (@Si_Senorpool) May 7, 2020
One of the best moment in my life

— Success (@Succ_ess0) May 6, 2020
Still gives me goosebumps this. What a night that was

— Dave Fitz (@daviefitz) May 6, 2020
This is why we love football!!https://t.co/10SWU7a8mi

— St Nick's Old Boys (@StNicksOldBoys) May 7, 2020
Will never be beaten.. Absolute scenes!! https://t.co/fK6Hl47fVG

— Brendan Mc Quaid (@Brendan_McQuaid) May 7, 2020
Oh my, still brings tears to my eyes 😁 #LFC https://t.co/sFn4z6r33z

— Finlay the Westie & his Mom (@Helen09Porter) May 7, 2020
Liverpool fans, was the comeback against Barcelona the greatest in Reds history? Let us know what you think by commenting below!