Expert reveals Juventus price tag for Chelsea and Liverpool target Federico Chiesa
Juventus attacker Federico Chiesa would cost Premier League clubs upwards of £100million this summer, according to Forza Italian Football editor Conor Clancy.
Chiesa shone as Italy broke England hearts by winning the Euro 2020 final at Wembley earlier this month.
The former Fiorentina man, who joined Juventus last October for a potential fee of £54million, scored two goals in seven appearances at the international tournament and his performances caught the eye of numerous clubs.
Which team would Federico Chiesa suit more?
Chelsea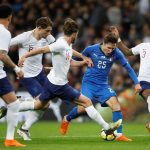 Liverpool
German media outlet Bild, via The Mirror, reported Chelsea have already seen an offer worth £85million pushed back by the Italian giants.
Meanwhile, Italian newspaper Repubblica – via MailOnline – revealed Juventus have rejected an £86million bid from Liverpool as they look to reclaim the Premier League title next season.
The 23-year-old scored 15 goals and contributed 11 assists in 46 Juventus appearances last season and Serie A expert Clancy insists the Turin-based club will do everything they can to ensure Chiesa does not depart.
Speaking exclusively to The Transfer Tavern, he said: "It would take all of the money. Juve are playing hardball with Chiesa because he is their star now.
"Forget about Cristiano Ronaldo. Chiesa is the guy that's going to take them forward to the next generation.
"It's going to take a lot of money, probably £100m, to make Juve part ways with him and I'm not sure that's going to happen this summer."