Liverpool: Medical expert drops verdict on Thiago Alcantara's injury record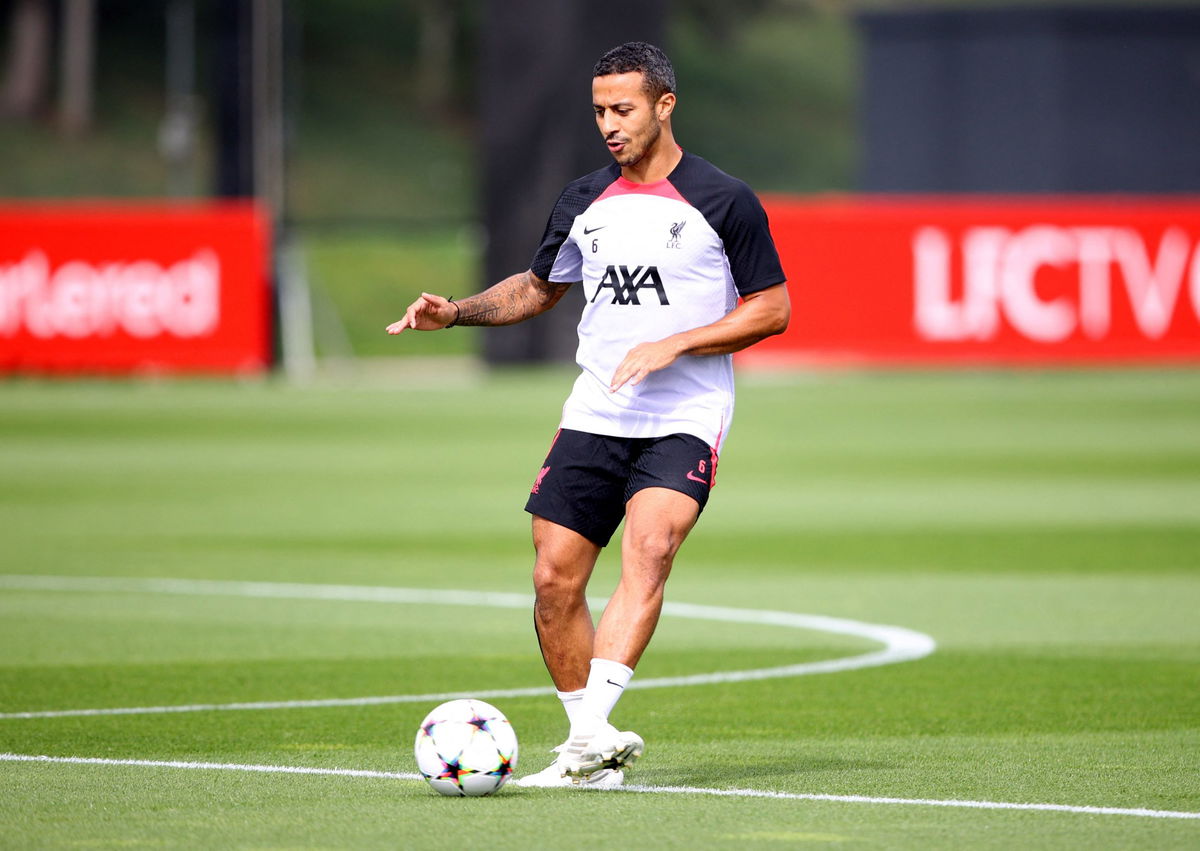 Liverpool midfielder Thiago Alcantara has had his injury record backed up by medical expert Ben Dinnery after recent criticism from Glen Johnson. 
The Lowdown
Earlier this week, former Reds defender Glen Johnson claimed that Thiago misses games for Jurgen Klopp's side due to "strange" injury issues or other reasons.
This comes after the Spaniard missed the defeat against Nottingham Forest and subsequent trip to Amsterdam due to an ear infection.
The comments have led Dinnery to share his thoughts on what Johnson had to say, and the Sky Sports analyst has some pretty encouraging words for the Liverpool star.
The Latest
Speaking to Football Insider, Dinnery had this to say on the matter.
He said: "He says he's missed some games for 'strange reasons' and that's simply not the case.
"Since he came to the Premier League, he's had a chest infection, two positive covid tests and then we've had this ear infection. I don't quite get saying they are 'strange reasons', his argument is flawed.
"He also talked about the high number of injuries he sustained away from the pitch. Again, it's simply not right, 75 per cent of his time loss injuries have all happened in a game.
"One of those was a fairly hefty challenge in one of the Merseyside derbies, that was a fairly significant time spent out. Again, these things don't quite add up.
"We talk about recruitment and injury history is a really good indicator of availability expectations. Thiago is exactly where he was back in the Bundesliga.
"We're not seeing anything different to what Thiago was like in the past. We're seeing a player who is available for a certain number of games and that's continued to the Premier League.
"I found it a bit of a strange and ill-informed interview without any substance or fact."
The Verdict
According to Transfermarkt, the Spaniard has missed 50 games in total for Liverpool through injuries to his knee, calf, thigh, hip and hamstring.
Taking into account what Dinnery had to say in response to Johnson's comments, it's clear that the medical expert believes Thiago is more a victim of bad luck rather than any lack of pain resistance.
While Thiago's previous injury issues may be seen as a problem for the team, it's apparent from what Dinnery had to say that it's nothing out of the ordinary.