Liverpool: EU veto football exemption from 14-day quarantine
In the Premier League, Liverpool have been by far and away the best team this season.
The Reds currently have a 25-point lead at the top of the division, and are just two wins and six points away from confirming their status as champions of England for the first time in 30 years. They have lost just one game, and drawn another, of their 29 matches to date – it is hard to recollect a more one-sided title race in the history of top-tier football on these shores.
However, the Champions League has caused plenty more problems. In the group stages, they were unable to beat Napoli at home or away, whilst Austrian side RB Salzburg scored three past them at Anfield. They did progress to the next round of the competition, but were soon dumped out after losing to Atletico Madrid 4-2 on aggregate.
The latest update on the European tournament from The Sun, though, may offer the Reds a reprieve. UEFA have planned to finish both the Champions League and the Europa League in August to work around the current pandemic, but to do so players would need to be exempt from the 14-day quarantine rules imposed in the E.U. That possibility, though, has been vetoed, making it surely impossible to complete the campaign.
Do you think the season will be completed?
Yes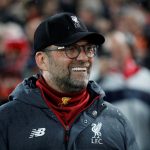 No
Whilst the Reds' supporters are desperate to finish the domestic term, their prayers could be answered in Europe. The failure to finish the tournament would effectively see it null and voided – which would see the Merseyside club hold on to their title until the next edition starts up.
As such, we could see a situation where the Reds are Premier League champions and European champions at the same time. Not bad going at all.
Let us know what you think below!