Liverpool: Fans love New Balance prototypes
New Balance will likely be pretty upset to lose their kit contract with Liverpool after five years of partnership with the European champions.
The Reds are, right now, one of the biggest clubs on the planet, and New Balance did all they could to be able to continue to manufacture their shirts – they even waded into a bitter legal battle. However, in the end, the Anfield outfit decided to continue with Nike, one of the biggest sports companies on the planet.
Would you have preferred to have stayed with New Balance?
Yes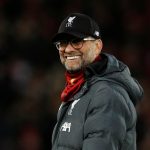 No
There have already been plenty of Nike concept kits flying around, but now the Empire of the Kop Twitter page has shared some of the prototypes New Balance were planning to use for next season. They have released a video of a red offering and a yellow offering, and they appear to have got the supporters talking.
It seems that the fans love them – one fan even called them "gorgeous". They have taken to the social media platform to share their thoughts, and you can see some of the best comments below.
They look quite good, quite disappointing that we couldn't continue with NB..

— kazza (@kazzafan400) April 18, 2020
Better than the Nike kits I've seen so far?

— Chris Dovey (@doves1971) April 18, 2020
Eventhough the designs are too simple and lack of striking colours, at least NB appreciates the fans with those quotes behind the crest.

— Mo Hakeem (@HakeemHatta) April 18, 2020
Makes me feel sad that the actual crest on the shirt not judt a print and all the writing, they're gorgeous. Hope Nike dont give us bland kit

— OOHMYLIVER (@oohmyliver) April 18, 2020
Love the little details, wish we'd stayed with NB! Obviously switching makes sense with the money though.

— Kenny Dowling (@kennydowlingf1) April 18, 2020
Probably the nicest kit I've ever seen.
Shame.

— Mick (@DXBMICK) April 18, 2020
What do you make of them? Let us know in the comments!