Liverpool: Fans fume over club potentially deprived of Anfield home fixtures
The good news for Liverpool is that the Premier League will return on June 17.
On Thursday, it was confirmed that the English top flight will restart next month after it was deemed safe enough to finish the end of the campaign. The Reds are 25 points clear at the top of the division and are just two wins and six points away from winning their first league title in 30 years.
However, the bad news is that the Merseyside outfit may not be allowed to play their home matches at Anfield. No fans will be allowed in any stadium anyway but the authorities believe that, given the situation, many Reds fans could congregate outside the ground as they look to push their team to victory.
Would you stay outside Anfield to support the team?
Yes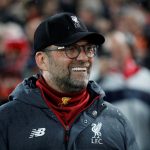 No
This has not gone down well with some Liverpool fans at all – it seems that they are unhappy that they could be the only ones to be forced to play under such conditions. They have taken to Twitter to share their thoughts and you can see some of the best comments from the social media platform below:
Absolute nonsense!!!

— Alan Harrison (@AlanHarrison60) May 29, 2020
What a joke, the people know the rules, if they're not allowed in the stadium why bother, should be allowed to play at Anfield

— Cathal Robinson (@CathalRobinson) May 28, 2020
What???? A separate rule for @LFC
Dont be ridiculous @premierleague https://t.co/aGZsv5D0Cs

— Chris* (@Chris5lfc68) May 28, 2020
What a stupid sugestion https://t.co/VmdI8ACYTc

— YNWA (@StefEPoh) May 28, 2020
One rule for us,a different one for the others. How does that make any sense?? https://t.co/9zjb3TAeZP

— Tobi (@Anfield_Chat_) May 28, 2020
How is that fair? https://t.co/kQcM1c7mWZ

— Krissss (@KrissDZN) May 28, 2020
Liverpool fans, is it fair that the Reds might not be allowed to play at Anfield in some upcoming home games? Let us know what you think by commenting below!