Liverpool: Rhian Brewster hails James Milner's influence on his career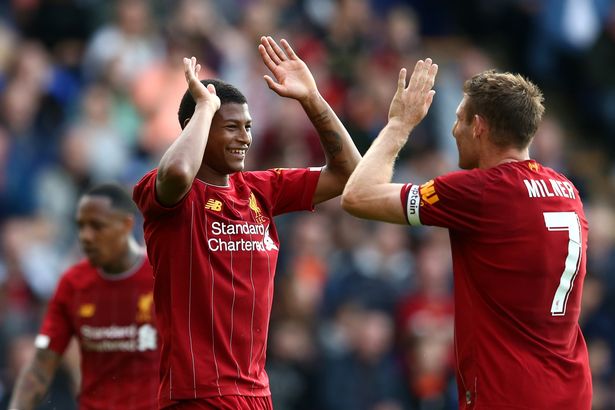 Former Liverpool striker Rhian Brewster singled out midfielder James Milner for praise as he prepares for his Anfield return tonight as a Sheffield United player.
Brewster influenced by Milner
The 20-year-old left Anfield to join Sheffield United for £23.5m before the domestic transfer window closed and is set to revisit his old stomping ground against Jurgen Klopp's side in Blades colours, as opposed to all red.
Brewster featured for the Reds during the Community Shield clash against Arsenal at Wembley, when he missed a penalty during the shootout.
Despite this, the England under-21 international never made a Premier League appearance before his switch to Yorkshire, although Liverpool gave themselves the option of a buyback clause which lasts for three years.
Speaking with the Daily Mail, Brewster spoke about his thoughts on his return to Liverpool and who influenced him at Melwood.
"It's going to be a bit weird," he said. "But it will be a nice moment, just to see everybody. I didn't get to say goodbye because [the transfer] happened so quick. Not one person slacks off and I'll always remember that.
"[Take] James Milner. He's in his 30s and still going strong. That's for a reason; because he is always in the gym, eating right, doing everything he can to be the best. That's one thing that I'll 100 per cent take from Liverpool and James Milner.
"I would 100 per cent take that [longevity] and look what he is doing in his 30s and [think] why can't I do that? The standards, they set the bar very high and that's something I will never forget and hopefully people looking at me, when I'm older they will hopefully feel the same way."
Class act
Footage had previously been leaked of Milner's leadership skills but it appears that these characteristics continue away from the cameras, which is probably not a surprise to anyone.
Former England international Stuart Pearce described the veteran as an "outstanding professional", whom he managed during his time with England under-21s in the mid-2000s, praising his willingness and attitude to clock substantial running distances and his versatility to put in a strong performance wherever he plays.
Milner's influence on young players like Brewster is clear to see, judging by the Sheffield United youngster's comments.
In other news, 6 ft 2 ace could be Michael Edwards' first flop after surprise Klopp revelation.