Tommy Doyle – Profile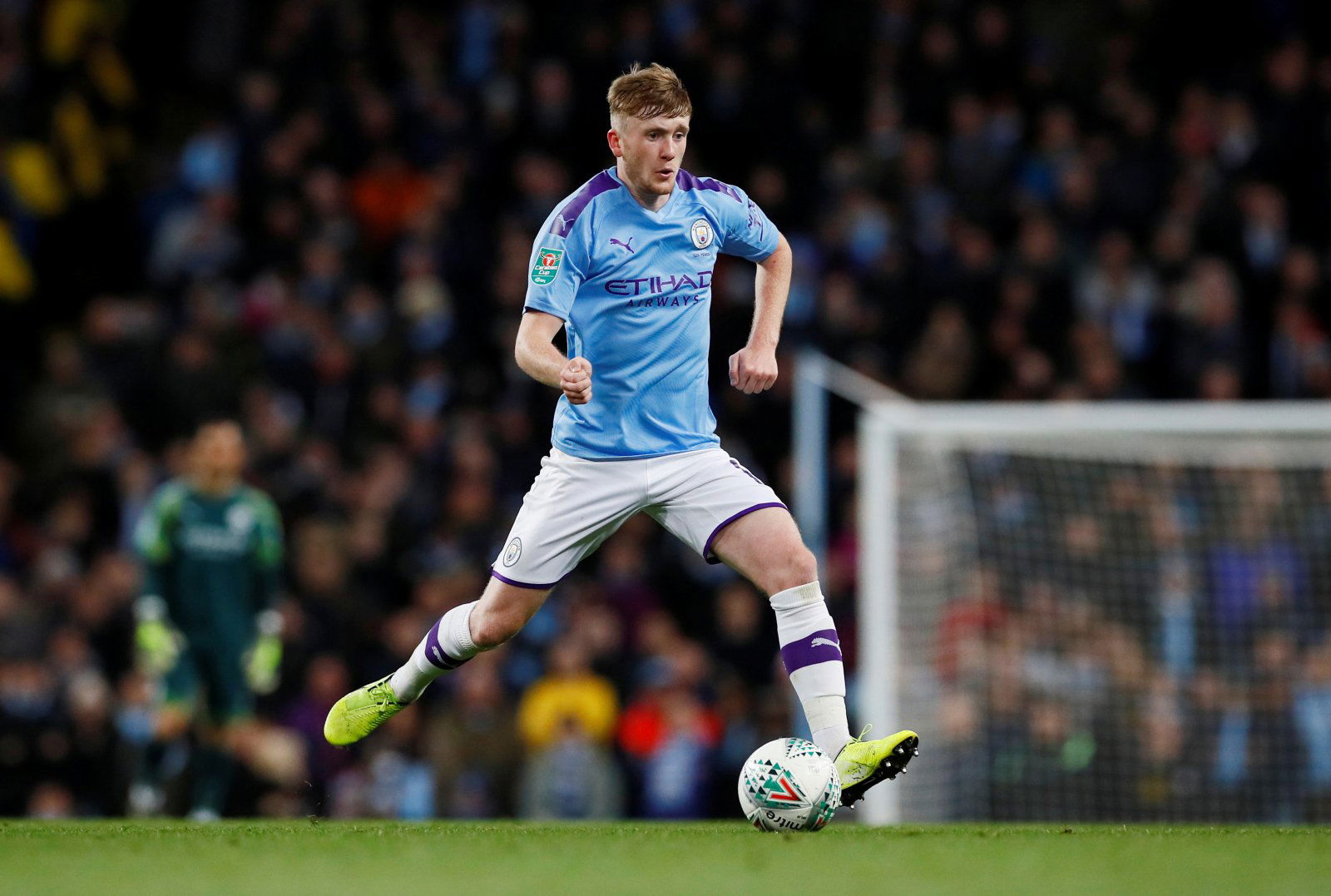 Name: Tommy Doyle
Club: Manchester City
Date of Birth: 17 October 2001
Position: Midfielder (Central/Defensive)
Tommy Doyle – his career so far
Tommy Doyle has been a life-long Manchester City fan and a big part of their academy ever since he joined the club back when he was only eight years of age. Before actually moving to the Etihad, the now 18-year-old midfielder has been plying his trade over at Sandbach United FC, a club he's been a part of since he's been four, even bagging 80 goals per season until he was snatched up by the Citizens.
Even though he only has a couple of senior appearances under his belt up until this point in his young career, Doyle is a promising midfielder who has excelled during his stay in Man City's academy.
So far, he featured for the Citizens' U18, U19 and U23 squads but definitely has the potential to move further up in the world in the not so distant future. Interestingly enough, his success at all the junior levels has been well documented as Doyle has won numerous tournaments with the junior sides, winning the Premier League Player of the Tournament for three successive years as well as several other prestigious individual honours.
Now, he can boast with a tally of 25 games for the U18s, scoring three goals and assisting five in the process as well, and one goal and one assist across eight games played for their UEFA U19 squad.
But by far the biggest role he's ever had is with the U23s as he has already mustered a total of 32 games for them, even scoring and assisting five goals under his belt as well.
He has represented England at U15s, U16s, U17s, U18s and U19s level and is currently captaining the latter side with five goals and two assists on his account so far.
Still, despite all the talent, he only experienced two games for the senior team of Man City, starting and finishing their victory over Southampton in the EFL Cup in 2019 and then making an appearance in the 4-1 FA Cup victory over Port Vale in 2020.
Transfer latest
Doyle penned his first professional contract in October 2018 and apart from making his first couple of senior appearances in the years that followed, there haven't been any Manchester City news that would give us a clear update on his future.
At the very moment, he seems set to stay at the Etihad, safe from all the transfer rumours and transfer news that might start flocking in this summer. He is, however, one of the fringe players that will need to be given more game time in the near future.
Doyle might be only 18 years of age but with a lengthy tenure in Man City's academy, the youngster is bound to want a bigger role and a clear path for progression from the upper hierarchy.
And given that he is still highly valued within the Citizens' ranks, maybe it wouldn't be a bad idea to give him more senior exposure once football finally returns.
Player profile
Doyle has often been described as a really dynamic midfielder capable of both shifting play and dropping into more of a deeper and defensive role when necessary. His technique and control of the ball allow him to successfully orchestrate play and dictate the tempos of games.
But when he does surge forward, he has the ability to cause damage to the opposition either by scoring the goals himself or simply setting his teammates up for great assists. The biggest thing about him, however, is the fact that he seems far more mature than his age might indicate.
And this is visible both in his winning mentality and the ability to bounce back from setbacks like injuries, and his decision-making on the pitch itself.
His intelligent movement and late arrivals in the box have a knack of confusing the defenders and he uses his superior technical skills to manoeuvre past them and rattle the inside of the opposition's net.