What makes a big club?
Survey: Does transfer spend make a club big?
Fans were asked and they responded. Below are the results of Betway Football who take a look at who the 20 largest clubs in England are based on the outcome.
There is always controversy when debating who the biggest clubs in England are so Betway asked fans what they feel defines a club as 'big'.
Using 10 different components of criteria, the fans had to score each individual one out of 10, basing it off importance.
Some were more straightforward – for example stadium size – while other criteria like match-going support were more difficult to measure and the results fluctuated in those areas.
There were more than 3,500 fans that took part in the survey and here is how they ranked the criteria based on importance.
Despite clubs continuously changing the personnel within their ranks season by season, transfer spend ranked lowest on the criteria table for importance.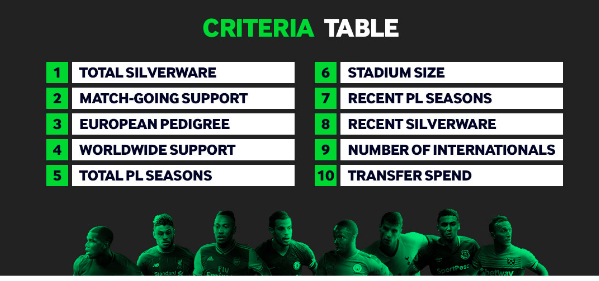 After that survey concluded, Betway ranked every club that has participated in the Premier League using the criteria above.
The continuous debate over what deems a club as 'big' always sparks controversy and this ranking gives a certified answer – for example, are Leeds United still classed as a big club?
Every club gained points for how well they ranked in each, separate category. 20 points was awarded to the highest-ranked teams and one point for the team that ranked 20th – anything below that scored zero.
Betway used a clever formula to calculate the total score for every club and placed priority on the criteria that were voted as the most important. If you want to see how they did it, click here.
Here is the fascinating look at the Premier League table made up of the 20 biggest clubs in England. 
As was already apparent, Manchester United topped the table, scoring maximum points in 60% of the categories. 
Brighton & Hove Albion are a surprise inclusion in the table given their lack of success and overall minutes in the Premier League. However, the Seagulls ranked fourth in the match-going support category and it elevated them into 20th place.
The results certainly threw in some shocks and surprises, but you cannot argue with statistics! 
However, this only surveyed a small fraction of the population so there could be room for change. Who would be in your Premier League table for the biggest clubs in England?