Harry Maguire has become something of a national treasure in England in recent weeks due to the high standard of his performances during the World Cup, and his form has reportedly intensified interest from Manchester United according to a report from the Daily Mail.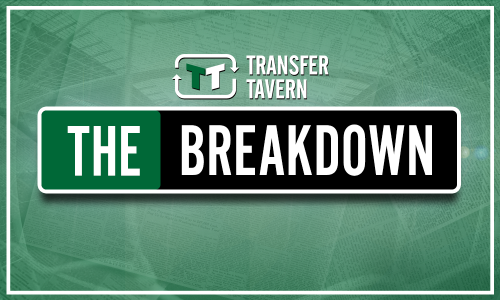 Maguire could not prevent Mario Mandzukic from hammering home a nation-crushing winner in extra-time on Wednesday evening, but the form he demonstrated throughout the tournament in a back-three has deservedly earned him the respect and admiration of an entire country.
At the heart of England's defence Maguire was a towering presence with surprisingly nimble feet when stepping out with the ball into midfield.
It's refreshing to see a central defender possesses such confidence in his ability with the ball at his feet to regularly embark on mazey slaloms through the heart of midfield to invigorate attacks and pull players out of their customary positions.
His quality in this regard was arguably the most impressive feature of his performances, as it demonstrated his ability to adapt to a new system whilst helping Gareth Southgate to effectively implement the relatively niche tactical approach which he installed into the England team.
And the aforementioned quality is one which certainly will have caught the eye of Pep Guardiola this summer as he continues his search for a long-term replacement for Vincent Kompany.
Although it would be grossly unfair to compare Maguire with Kompany, there is certainly a case to be made for the England international to succeed Man City's captain at the club in the years to come and, with that being said, Guardiola should hijack United's bid for the 25-year-old this summer.
At 32-years-of-age Kompany is heading towards an age where regular first-team football could become increasingly more difficult, especially with his injury record to bare in mind, so City will need to sign a replacement for the Belgium international in the not too distant future.
With Aymeric Laporte, John Stones and Nicolas Otamendi also at the club, Guardiola has plenty of options to chose from and is not in desperate need of a central defender, but a serious injury to Kompany or another centre-back could leave City in a spot of bother next season.
On paper it would be wise for City to wait until next summer to assess the situation regarding their options at central defence, but if Maguire threatens to join United this summer then they may be forced to fast-track a potential deal and sign him this summer.
In the interest of preserving squad morale, City could even propose a rare loan-back deal to Leicester before welcoming him to the club in the summer of 2019.
Either way, it's clear that Maguire possesses the qualities which Guardiola seeks from his defensive unit, so the club may be forced to make a bold decision and hijack United's bid for his services if their local-rivals eventually table a £50 million offer this summer.
Man City fans – thoughts? Let us know below!