The great leaders in sport are not only the players who lead by example with their performances on the field, communicate effectively with their teammates and consistently perform at the highest level, they tend to be the individuals who produce sacred moments of magic when their team are crying out for inspiration.
Although he was only 21-years-old at the time, Harry Kane showcased his leadership quality with a last-minute strike at Villa Park to clinch Tottenham – and particularly Mauricio Pochettino – a vital 3 points against Aston Villa.
Pochettino was appointed to take the reigns at Tottenham in the summer prior to the beginning of the 2014/15 season and the supporters had high hopes for the Argentine after his successful spell with Southampton.
But he endured a tricky opening to life in north London as, prior to Tottenham's trip to Villa Park, he had led his side to just 3 wins in the league.
Tottenham had also suffered heavy defeats against top-four rivals Manchester City and Liverpool as well as a shock defeat against West Bromwich Albion at White Hart Lane, so it was far from plain sailing during the early stages of his career.
Enter Harry Kane: the ace up Pochettino's sleeve who kick-started his groundbreaking career with a free-kick which was, admittedly, helped on its way by our good friend lady luck.
A moment in time: Harry Kane's dramatic winner at Villa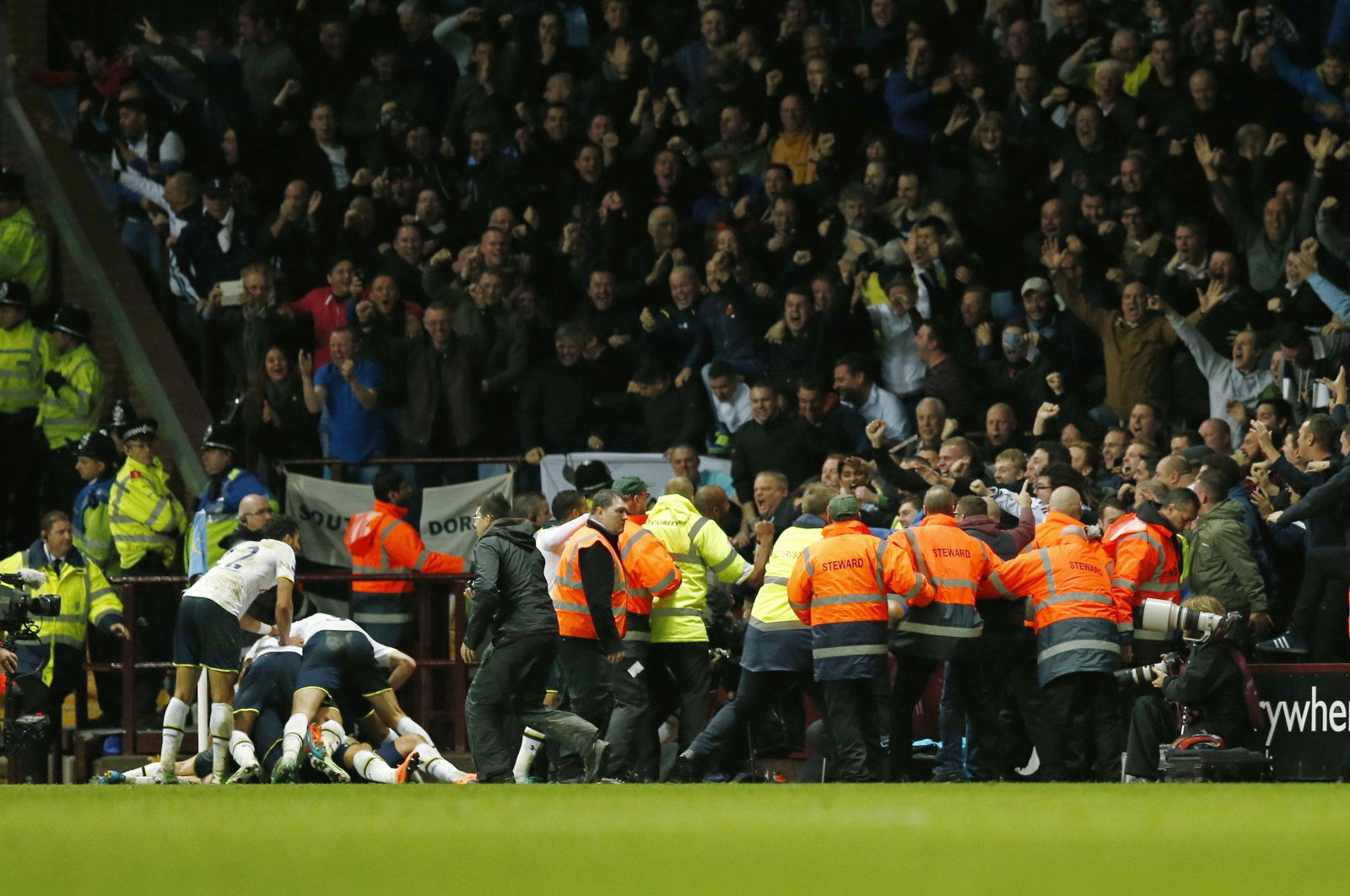 Kane's last gasp strike sparked wild scenes of elation in the away end as a mass of Tottenham bodies piled forward to celebrate pitch side with their belly-sliding hero.
The little known 21-year-old was buried underneath a pile of Tottenham bodies and his emergence from the rubble was rather fitting on the day when England's new golden boy was born in Birmingham.
Pochettino has since said of Kane's strike: "I can find many other goals that were fantastic but, for me, goals are related to emotion, to the period you are living in. For me, that goal was an amazing goal because it meant for us, for everyone, the possibility to stay here." (via ESPN).
Clearly, Pochettino's admission implies that his job was far from secure following his modest opening to life as Tottenham boss, and it's a personal favourite of his due to the context of the situation, rather than the quality of the strike.
Perhaps what is most fascinating about Kane's free-kick is that it sparked the beginning of an electric run of form which saw him bag 21 Premier League goals by the end of the campaign, including a brace in a 2-1 victory over Arsenal.
It's fair to say that Kane has played an instrumental role in Tottenham's success under Pochettino, but without that strike who knows where the Spurs pairing might have ended up.
Kane's strike might not have been aesthetically the most "amazing" he's scored in his career but it was undoubtedly an extraordinary turning point for both himself and Pochettino.
Tottenham fans – thoughts? Let us know below!