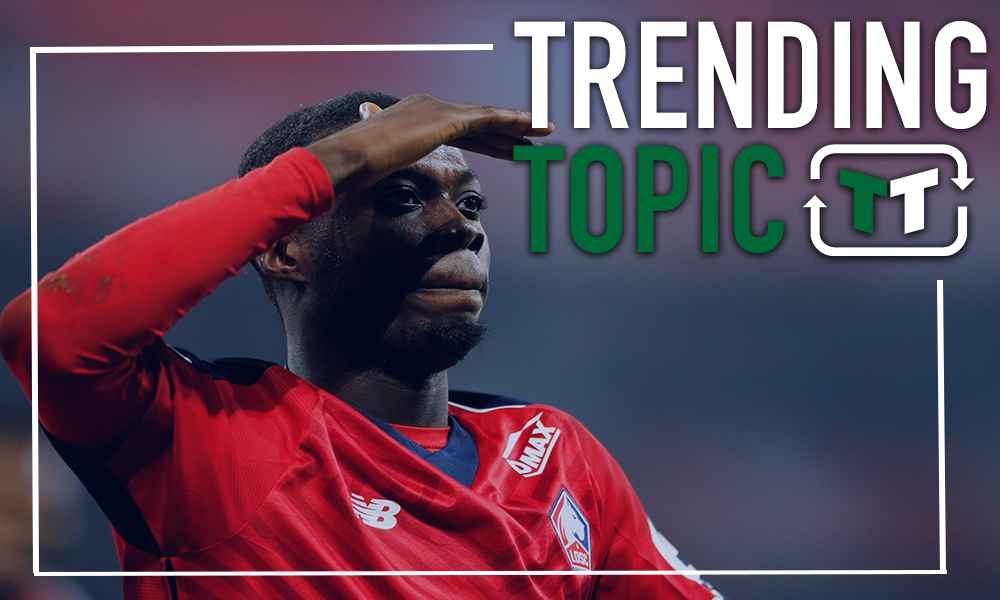 Chelsea may be under the threat of a transfer ban, but according to the Mirror, the Blues are still planning for potential arrivals. Nicholas Pepe, it is said, is the Blues' latest target, with the club keen to find a replacement for Eden Hazard should he depart this summer.
Pepe has enjoyed a remarkable season in Ligue 1 this season, and a move to a big European team seems natural for him when the season comes to a close.
Stamford Bridge would be a good home for him – as there's a clear spot in the first team. He'd come in and immediately upgrade the Blues.
Here's how he might fit in at Chelsea next season should he move…
Nicolas Pepe, who the Mirror report is being viewed as a potential Eden Hazard replacement, would be a good fit at Chelsea – but not in the position that Hazard has utilised this season. For Lille, he's generally turned out on the right-hand side of the attack, and that would be an ideal spot for him at Stamford Bridge. Chelsea haven't had a top-class naturally right-sided player in a long time, with the likes of Pedro, Willian and Hazard all best on the left. He'll immediately make the right-hand side of the Chelsea attack better, with his brilliant energy and pace causing the players ahead of him problems.  With 19 goals and 11 assists this term, the talented 23-year-old has been able to have a remarkable impact in front of goal – and what a fit he'd be.
On the other side, directly replacing Hazard, maybe Callum Hudson-Odoi could be a good choice. He's had his first taste of Premier League action this season, and it's fair to say that he's stepped up to the plate. He's a fantastic attacker, regardless of where on the frontline he's placed, but sitting on the left will allow him to cut in and drive at defenders. At just 18-years-old, the best is still to come from the Englishman – but the sooner he's given chances, the better he'll get. Pepe and Hudson-Odoi could man the flanks at Stamford Bridge for years to come.
Leading the line, somewhat controversially, perhaps Tammy Abraham could get a chance. With 24 league goals in the Championship, it's painfully obvious that the forward is ready to make an impact in the Premier League. If Chelsea are giving chances to their youth, maybe Abraham would be able to prove himself at Stamford Bridge. He's a natural goalscorer, and that's a trait that sticks regardless of the league that you're in. Surrounded by players like Hudson-Odoi and Pepe, he'd get chances, and based on his finishing this term, you can bet that he'd put more than a few of them away.
On the bench for Chelsea could be new signing Christian Pulisic, whilst you'd expect at least one of Pedro and Willian to remain at the club. Likewise, maybe Olivier Giroud could provide Abraham with competition too.
It's a young attack, but Chelsea need to build to the future, and there's no doubting the goals, flair and excitement that this trio would generate.
Chelsea fans – do you see this happening? Is it likely? Let us know below!