Tottenham Hotspur have been widely touted with a move for a new attacking player this summer to supplement their options at centre-forward, but with less than 4 days left until the window slams shut it seems unlikely that they will bring in a household name such as Anthony Martial or Wilfried Zaha. 
The struggle of Fernando Llorente to support Harry Kane at the spearhead of Tottenham's attack last season suggests that the club should sign a player with the versatility to operate in a handful of attacking positions. Both Zaha and Martial fit the bill, but the reluctance of both Crystal Palace and Manchester United to sell to a Premier League rival will naturally drive their price up to an extortionate level which Daniel Levy is notoriously unwilling to part with.
With that in mind, signing a talented player from outside of the Premier League could be the natural solution for Spurs during the final days of the transfer window, however, a recent report from Goal suggests they could be priced out of a deal for another of their targets, namely Ante Rebic.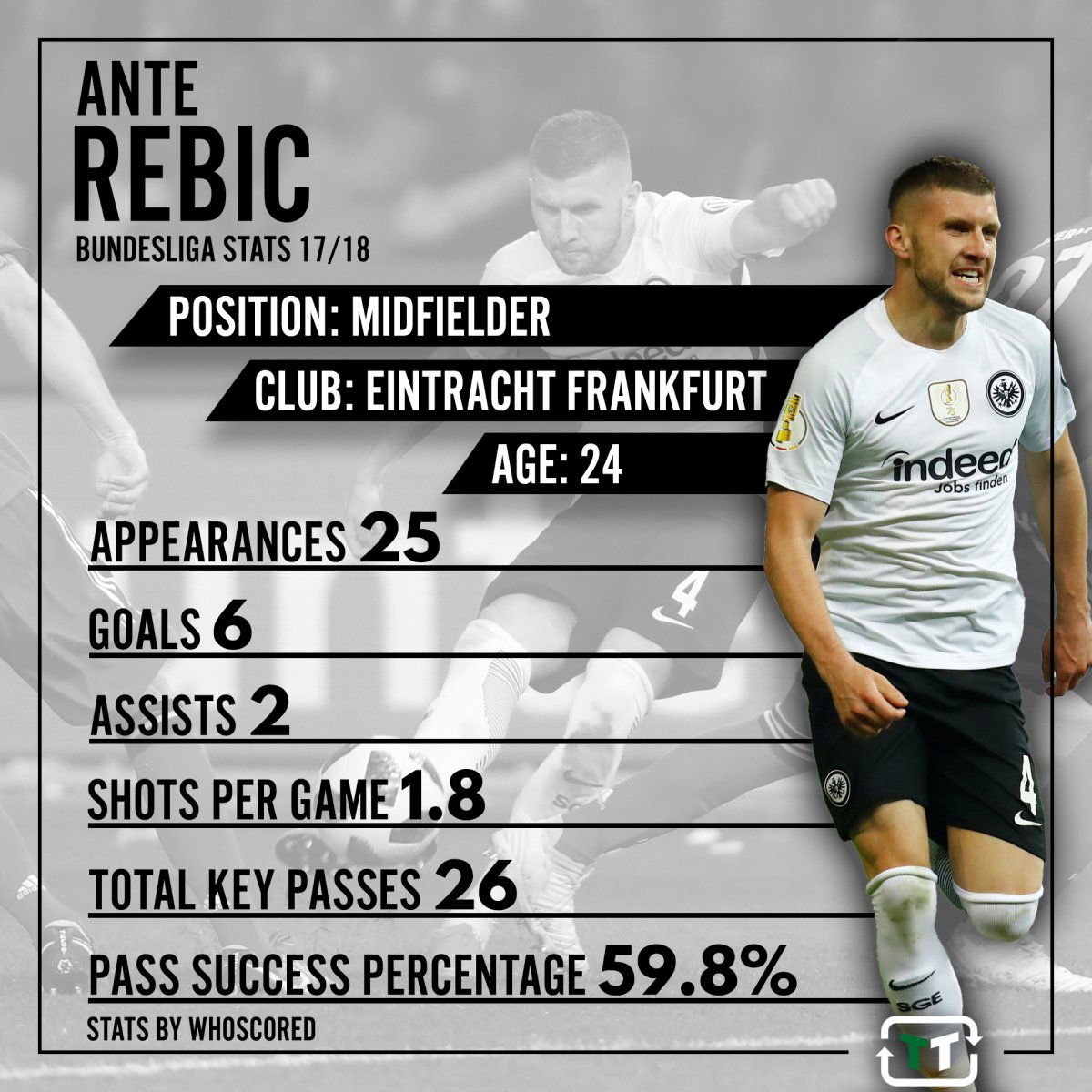 Goal have cited £44 million as a likely figure which will be needed to prise Rebic away from Eintracht Frankfurt, despite the fact they completed a deal worth just £1.8 million to sign him from Fiorentina at the beginning of the summer.
Rebic would be a solid investment for Tottenham on the evidence of both his campaign in the Bundesliga last season and his eye-catching World Cup performances, as he possesses both the exemplary mental approach which Pochettino seeks from his players and the technical quality to terrorise solid Premier League defenders.
Sure, Rebic has plenty of work to do on his pass success rate which stood at just 59.8% last season, but it must be considered that he is a risk taker who is consistently innovative in his approach and unsuccessful passes are a natural byproduct of his game.
The Croatia international is capable of playing on both wings and through the middle as a centre-forward where his clinical edge in the final-third is put to good use, so his presence would provide the answer to a nagging problem which has plagued the club in recent seasons.
Tottenham fans have been waiting patiently for the arrival of a new versatile forward all summer long but so far their dreams have fallen flat.
The arrival of the 24-year-old would finally give the supporters something to shout about and simultaneously provide Pochettino with the talented forward-thinking player which he needs ahead of the new season, so it's time Daniel Levy silenced his doubters by financing a huge deal for Rebic in the final days of the window.
Tottenham fans – thoughts? Let us know below!