Arsenal
Arsenal fans aren't happy with Aaron Ramsey's display vs Sporting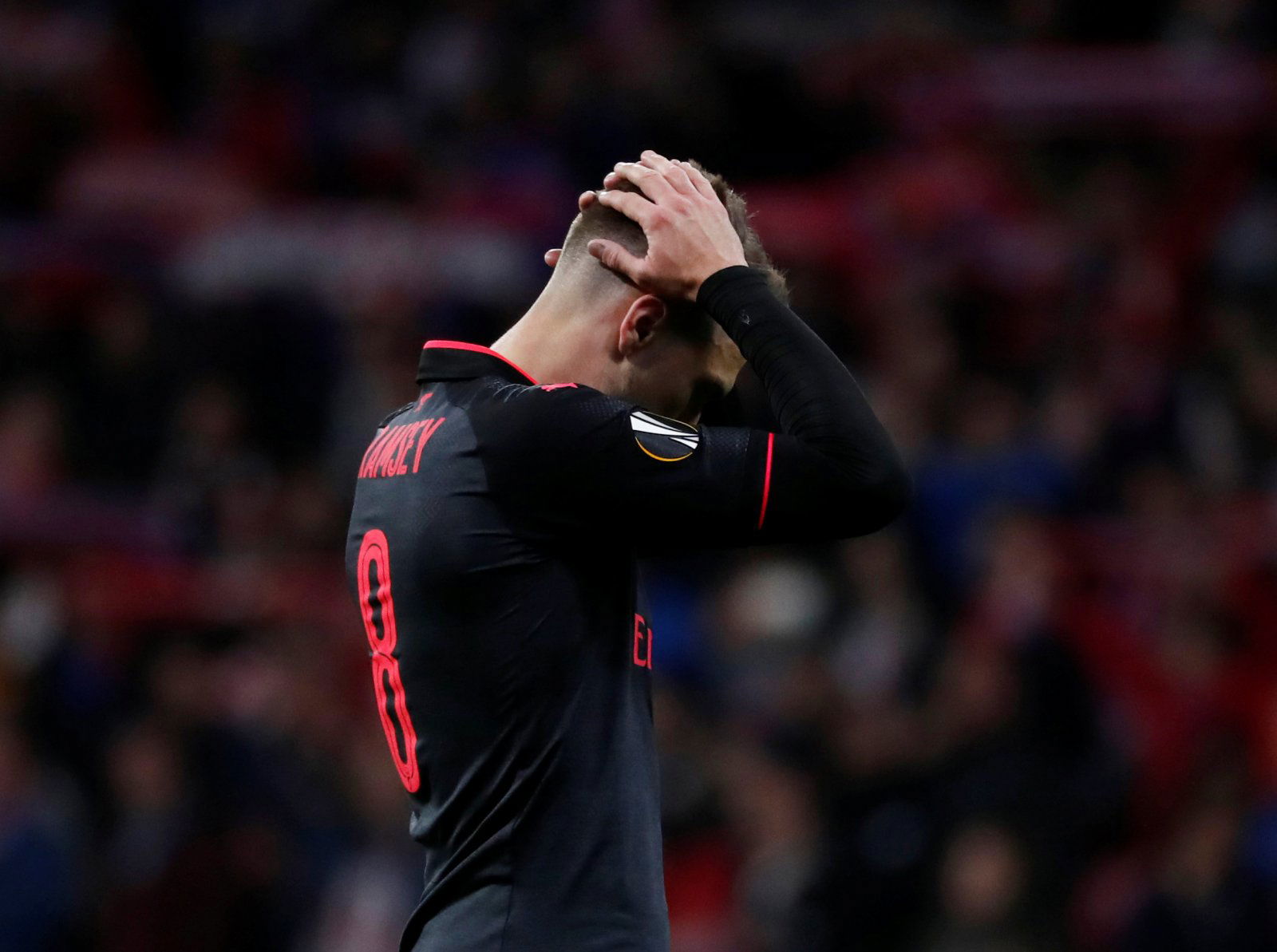 It's been a good season so far for Arsenal, both at home and abroad, with Unai Emery's men impressing during his debut season. It hasn't all been good, of course, but for the most part, fans will likely be pleased with where they're at.
On Thursday, they returned to Europa League to face Sporting. The Portuguese outfit are a strong team, of course, but it's fair to say that the Gunners were expected to impress.
However, that didn't really happen. Arsenal looked pretty poor, with perhaps the Europa League not quite offering the same level of motivation that the Premier League provides.
Still, Arsenal fans remain expectant that the players will perform, and so the display was frustrating. One man that has generated particular anger amongst fans is Aaron Ramsey.
The Welshman has all the talent in the world, but he failed to show it on Thursday, and many Arsenal fans have taken to Twitter to voice their displeasure with his display.
Take a look at what they've had to say below…
Forgot Ramsey was playing #Afc

— Woody (@andywoodcraft) November 8, 2018
Ramsey should leave as soon as possible #afc

— Harrison Serrato (@harryser85) November 8, 2018
Feels like the team couldn't be bothered about the game and the majority of the team was later hampered by Welbeck's injury. Mkhi & Ramsey are so disappointing. Lichtsteiner's past it, thank goodness he's only on a 1year contract. #afc

— Polo Maruwa (@polomaruwa10) November 8, 2018
Good Riddance Ramsey, Brainless Footballer #AFC

— The Arsenal (@KYEkye45) November 8, 2018
That was an awful game. 9 changes so can't be that surprised tbf. Mikhitaryan and Ramsey are done at Arsenal now. Both look shot of confidence. Can see a big clear out in summer. About time too. #AFC

— Craig Daly (@cd_78) November 8, 2018
So poor Ramsey, as has been the case all match long so far. #afc

— No clean sheets FC (@sull_noronha) November 8, 2018
That last wasted move from Ramsey sums up his entire career at Arsenal.#Arsenal #AFC

— Brooklyn Gooner (@ArsenalBrooklyn) November 8, 2018
This is the same Ramsey that wants £250k a week? #afc

— . (@s_n_e_l_l_s) November 8, 2018
Ramsey won't really be missed. Injuries and a lack of defensive work/positioning have been a let down. We shouldn't pay him huge wages to sit on our bench. #AFC

— Gunnersaurus Flex (@GunersaurusFlex) November 1, 2018
Thoughts?
Like what the TT have on offer? Sign up for more notifications!