Arsenal
Arsenal fans aren't happy with Emery facing a tough January window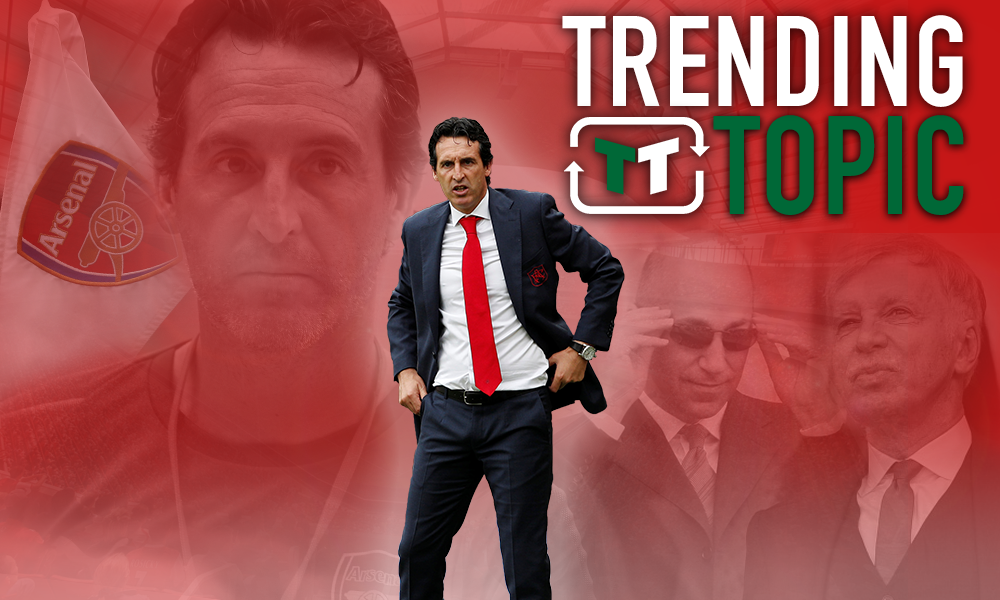 An opening day Premier League defeat has dampened spirits at Arsenal, with the Gunners clearly still a step or two behind Man City – who look likely to challenge for the Premier League title once again.
After a great summer, optimism was high that Unai Emery would make a good start at the Emirates, and whilst there is still more than enough time to make his first few months a success, their defeat on the opening day wasn't great.
Unfortunately, though, Arsenal, and particularly Unai Emery, have been handed even more bad news this week.
According to the Telegraph, Arsenal are facing a 'wage-squeeze' in January, owing to the spending done by the Gunners over the summer. This could impact upon any spending in January, whilst it will also make it more difficult for Emery to hang on to his current crop of stars.
Whichever way you spin this, it's bad news for the Gunners. They've rarely been willing to spend big, but now as they've finally done that, they've run into problems.
The extent of the squeeze remains to be seen, of course, but either way, Emery's plans will be affected.
Naturally, Arsenal fans aren't too happy, with many taking to Twitter to discuss the reports. They're clearly very frustrated, with fingers being pointed at key figures like Stan Kroenke.
Take a look at what they've had to say below…
More pain until gain for Arsenal. @JWTelegraph reporting that Arsenal face a squeeze on their wage ball, which means no future signings unless players can be moved on.

Likely to continue until new commercial deals with Adidas and Emirates begin next summer. #AFC pic.twitter.com/sNl6YDMv6k

— Yousef Teclab (@yousef_teclab) August 14, 2018
Four years ago we were told we could be on par with Bayern. Now we have to brace ourselfs for more pensioners, kids, nobodies and drifting towards Everton and West Ham…

— MatPal (@PallecPaluch) August 15, 2018
Kroenke is tightening his grip on the club for no real reason besides being evil. He's going to kill this club.

— Saint Basil (@JalenLivingston) August 15, 2018
Arsenal, the sixth richest club in the world, need to sell Mohammed Elneny in order to have a balanced wage bill. It doesn't even sound remotely credible!

— Flannyballs (@Flannyballs) August 15, 2018
This our wage bill talk is sooooo annoying…………we are running on a very high wage bill with bang average players which will now affect transfers……..i say again we have the worst ppl running arsenal

— ADINO THE EZNITE! (@_Aikay_) August 15, 2018
We gave Elneny a new contract and probably improved his wages too. How he has to be sold because of the wage bill funny club

— Lee. (@SimpLeeArsenal) August 15, 2018
Arsenal's wage bill has ballooned because of handing massive deals to non consistent players. Fans proceed to simply blame kroenke

— Darth Vardhan (@shaurye_vardhan) August 15, 2018
So Arsenal are simultaneously trying to negotiate a big new deal for Ramsey and trim their wage bill? Hard to see a swift resolution on the former. Will be interesting if nothing agreed going into December #AFC

— Josh Wright (@_WrightJosh) August 14, 2018
Arsenal fans – thoughts?
Let us know below!