Arsenal fans can't get enough of Alexandre Lacazette and Pierre-Emerick Aubameyang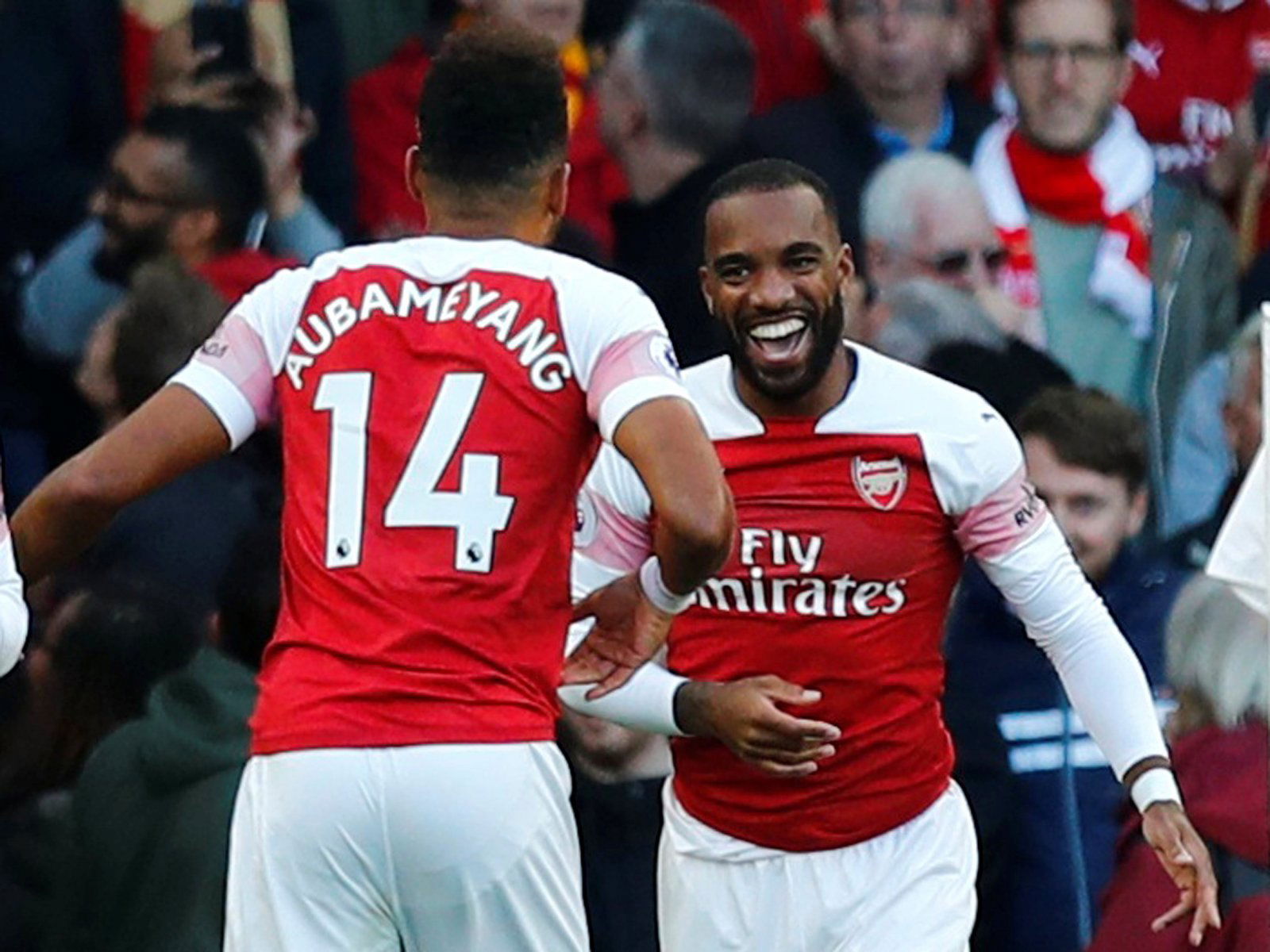 Unai Emery's Arsenal team picked up another win over the weekend, this time against Everton, to continue their fine spell in the Premier League. Though they had a tough start, they've quickly gelled and began to impress, and they're now enjoying a winning run in the English top flight.
Following the game, much of the attention has unsurprisingly been placed on Pierre-Emerick Aubaameyang and Alexandre Lacazette. As two of Arsenal's highest-profile players, the duo always make headlines when they play, but this time around they've made them for all the right reasons.
They each scored one goal respectively, rounding out Arsenal's goalscoring, much to the joy of Unai Emery. Both players have tremendous goalscoring records over the years, and now they're beginning to transition that to the Emirates on a regular basis.
Unsurprisingly, they're very popular over on Twitter with Arsenal fans, with plenty of supporters paying tribute to the deadly duo online.
Take a look at what they've had to say below…
I don't think you guys have an idea how much I LOVE Auba & Laca.

— Paulos (@DabaAbdi) September 24, 2018
It's great for the team to have such 2 great strikers like Lacazette and Aubameyang. #COYG

— omar barkadle (@omar_barkadle) September 24, 2018
If we concede two goals and could of been more to a team who haven't scored until today then it's going to be a tough season again. Basics of defending just are still not there. Good to see Lac/Aub play in the same team as great finishing.

— Paul Tassell (@PTassell) September 2, 2018
Generally thought Everton were great in the first-half, making runs behind the defence, but gotta say Arsenal went up a gear in the second-half. Torreria, outstanding in the second half and Laca and Aubameyang making goals look easy.

— L (@CrucialLukexo4) September 23, 2018
Since Aubs joined Arsenal:
Aubameyang:14 goals in 21 games
Laca:10 goals in 16 games
They have 5 assists to eachother

What. A. Partnership. https://t.co/za922jIBoz

— Piers Clarke (@thepearman14) September 23, 2018
Wonderful performance from the lads against Everton, solid defence, compact midfield and a clicking Aubameyang and Laca combination, indeed we are marching on @Arsenal #arseve

— Eric Lee Group (@eericlee1) September 23, 2018
Laca and Aubameyang on the scoresheet

— Farhanball (@moabffarhan) September 23, 2018
Auba and laca admitting to their bromance
Great to see these two getting on so well. Really important for us #aubameyang #lacazette pic.twitter.com/7iU5zF5Ax1

— Neilby_Gooner 70 ⚽ (@Neilby70) September 23, 2018
Laca and Aubameyang scoring puts tears in my eyes

— Eta (@ETHC_) September 23, 2018
Start Laca and Aubameyang and you're guaranteed results

— GingerJfittyIsAGoon (@jfittyafc) September 23, 2018
Aubameyang too! ⚽️ He and Laca have to start every game! #afc

— Ryan Smith (@rsmithldn) September 23, 2018
Arsenal fans – thoughts?
Let us know below!