Arsenal
Arsenal fans losing faith in Granit Xhaka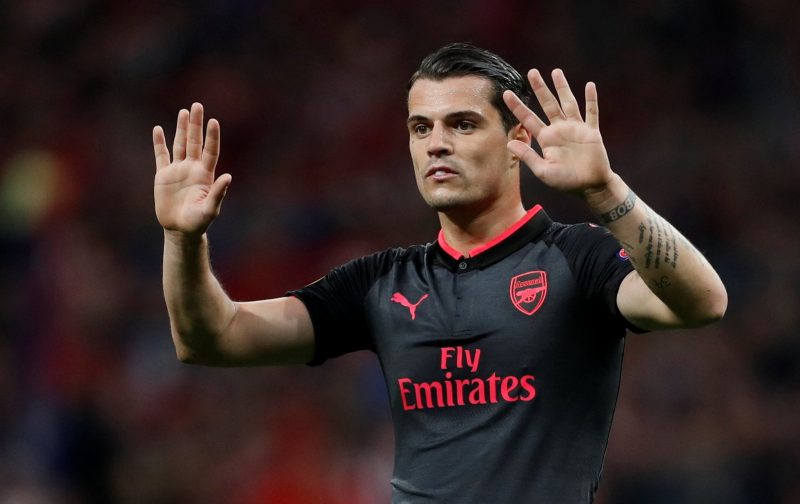 Arsenal took on Chelsea in the later kick off on Saturday and after a marvellous fightback to make the score 2-2 from 2-0 down, they eventually fell short and lost 3-2. The fans will be gutted with the way they lost but ultimately you can't say the better side didn't win. Another thing you can't argue is that Granit Xhaka simply isn't good enough and the fans have been making that clear.
We're back underway at the Bridge – and it's #TimeForTorreira

Granit Xhaka
@LTorreira34

Watch now https://t.co/aLvx7Ig2uV #CHEARS 2-2 (46) pic.twitter.com/Vw9kCEmHhe

— Arsenal FC (@Arsenal) 18 August 2018
Lucas Torreira is a much better player than Granit Xhaka already and considering the Swiss international has had two years to adapt to the league and settle at Arsenal, it's a bit of a joke that he still manages to make the mistakes he did. Admittedly, he got through the game at Stamford Bridge without any major issues but that hasn't stopped the fans from calling for Torreira to start.
The Uruguayan midfielder was introduced off the bench at half-time at Xhaka's expense and the supporters will be expecting to see the 22-year-old start ahead of Xhaka next week when they host West Ham. They'll be aiming for their first points of the season against The Hammers and they'll have a much better chance of doing that if they start with Torreira and leave Xhaka on the bench.
You can read the Gunners' verdict on Xhaka here:
Xhaka out pic.twitter.com/Aq6OcPlD7K

— (@mpejakovic_) 18 August 2018
He should not have started anyway

— Jide Ajiboye (@Lajeeday) August 18, 2018
Another bold sub by Unai, rarely seen in my life by @Arsenal make a sub at mid time … Xhaka is not up to the level #CHEARS

— Nurul Amin (@acmnamin) August 18, 2018
Xhaka needs to be sold, not good enough

— John Mather (@JohnMather27) August 18, 2018
Xhaka off!!!! And don't hurry back

— Anorak (@TheAnorak) August 18, 2018
Now that he off never get that man back on the pitch! XHAKAOUT

— Jordan (@ManwithoutaTieX) August 18, 2018
The fans will be keen to see Torreira starts against West Ham and will be hoping Xhaka is nowhere near the eleven in the coming weeks.