Arsenal: Many fans still can't forgive "snake" Cesc Fabregas for Chelsea move
Arsenal have had plenty of impressive Spaniards over the years, including the likes of Mikel Arteta, Cesc Fabregas and Santi Cazorla. In their prime, those three midfield maestros would work wonders in this current Gunners side, and fans were asked to pick their favourite by AFTV's Twitter account.
During Fabregas' time at the club, he played 306 games, racking up 59 goals and 92 assists (stats via Transfermarkt). During his last season, before joining Barcelona, WhoScored noted that he bagged 11 assists in the league and netted four times in six Champions League games, earning him an average performance rating of 8/10 in the competition, according to the site.
Can Arsenal keep hold of Pierre-Emerick Aubameyang?
Yes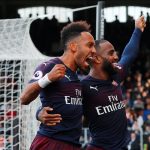 No
However, despite the undoubted quality he possessed, many fans still can't get over him moving to Chelsea. In the replies to AFTV's tweet, some supporters did admit Fabregas was the best Spaniard Arsenal have had, but in a close battle between him and Cazorla, many refused to pick him because of the move to one of their London rivals.
Your favourite Spaniard to play for Arsenal has been:

🇪🇸 Almunia
🇪🇸 Arteta
🇪🇸 Fabregas
🇪🇸 Reyes
🇪🇸 Perez
🇪🇸 Bellerin
🇪🇸 Ceballos
🇪🇸 Cazorla
🇪🇸 Monreal
🇪🇸 Suarez
🇪🇸 Merida

— AFTV (@AFTVMedia) November 17, 2019
You can see some of their reactions to the tweet below:
Fam, every person that says Fabregas forgot how he snaked us? Cazorla is the right answer!

— Hank Markowski (@markowskinews) November 17, 2019
Would be Fabregas if me didn't move to Chelsea, but it's Cazorla

— Zak⚡ (@ZakAFC_) November 17, 2019
Cazza. I would have said Fabs, but he left. No hard feelings tho.

— Tummus (@tomidotk1) November 17, 2019
I'd say Fabregas and Cazorla are the same but if I had to pick one then Cazorla purely because of the way Fabregas snaked us.

— Damien Martin (@initman01) November 17, 2019
Fabregas was the best, but I cannot ignore that Chelsea spell of his career. So I go with Santi. Amazong footballer and amazing person.

— Aslanbek Salatov (@Oscar1886) November 17, 2019
Carola used to be Cesc but we all know what happened

— Khanyisa (@2Fast_Ngqakayi) November 17, 2019
Arsenal fans, who do you think is your club's greatest ever Spaniard?