Arsenal: Fans show love for Santi Cazorla as many dub him their best Spaniard ever
Arsenal fans will be reminiscing about the past given the sorry state their current form is in. Two wins in 10 games will have brought back memories from the worst spells of Arsene Wenger's reign. One time that Gunners have enjoyed over the last five years was the period where Santi Cazorla looked like one of the best midfielders the country had ever seen.
Can Arsenal keep hold of Pierre-Emerick Aubameyang?
Yes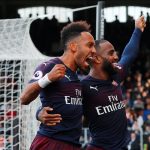 No
Before the terrible injury that ended his playing time at the Emirates Stadium prematurely, Transfermarkt noted he assisted 45 goals and scored 29 in 180 games. During the 2015/16 season, arguably his best in an Arsenal shirt, The Independent reported official Premier League stats that said he was the first player that season to complete 1,000 passes and he also had the highest pass accuracy out of the top 10 passers at that time, with 90.3%.
Arsenal fans were asked to pick their favourite Spanish player to ever wear the Gunners shirt by AFTV's Twitter account, and Cazorla was one of the most mentioned names on the list. The tweet got over 900 replies, and fans couldn't resist showing their love for the 34-year-old, who returned to the Spanish national side with a goal against Malta on Friday night.
Your favourite Spaniard to play for Arsenal has been:

🇪🇸 Almunia
🇪🇸 Arteta
🇪🇸 Fabregas
🇪🇸 Reyes
🇪🇸 Perez
🇪🇸 Bellerin
🇪🇸 Ceballos
🇪🇸 Cazorla
🇪🇸 Monreal
🇪🇸 Suarez
🇪🇸 Merida

— AFTV (@AFTVMedia) November 17, 2019
You can see some of their reactions to the tweet below:
Only one Santi Cazorla. Love and miss you man ❤️ @19SCazorla pic.twitter.com/Ftj4UTEse7

— King Promise 👑 (@froshking07) November 17, 2019
Cazorla.
Any other answer is dead wrong.

— Babz Anthanasio (@ItzMrNarsio_) November 17, 2019
Cazorla for me, miss him 💔 shouldn't have even sold him he's back to his best now!

— mattwilliams 🍀 (@mattyywilliamss) November 17, 2019
Man like SANTI.

In raw technique, better than Bergkamp. Dennis was a don technically, but not two-footed like Santi.

— Halls of Marble (@Marblehalls_TV) November 17, 2019
Santi! 'You couldn't get the ball off him if you were in a phone box with him!'

— Paul (@paulodinada) November 17, 2019
The one and only Santiago Cazorla ❤️ pic.twitter.com/HQYEL6hFcH

— L Ø Y Ö (@4Laglago) November 17, 2019
Arsenal fans, would you take Santi Cazorla back?