Arsenal: Lianne Sanderson says there's a different feeling about the club under Arteta
Lianne Sanderson joined Geoff Shreeves on The Debate podcast and discussed Arsenal's situation under new coach Mikel Arteta and how it's actually changing for the better.
It's pretty safe to say that Arteta is still very much a fresh presence on the Gunners' bench and it might take him a while to finally get the team to dance to his tune.
But according to Sanderson, the fans are behind their new gaffer and there's a completely different feeling to Arsenal already. The supporters have his back more than they did with Unai Emery in charge.
Here's what she said for The Debate podcast (3/3/2020): "I think the fans believe in him as well, though. I think there's a different feeling around Arsenal since Arteta came in. The fans seem to be behind him a little bit more than Emery, maybe because he was the captain of Arsenal before. I'm not sure, but I get that feeling that the fans have more patience with Arteta than they did before."
So far, Arteta's record at the Emirates is decent as he can boast seven wins, five draws and only two losses across 14 games played in all competitions in 2019/20.
Who would you rather have in their prime?
Alexis Sanchez
Pierre-Emerick Aubameyang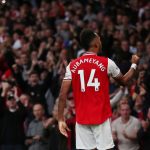 Of course, it's far from perfect and Arsenal are still a work in progress, which was painfully evident in their surprise defeat to Olympiacos in Europe, but the foundations seem to be there.
And even more importantly, as Sanderson says, the fans appear more patient this time around and that creates a healthy environment for the team to keep improving.
Arsenal fans, do you agree with Sanderson's verdict? Do you really believe in Arteta? Let us know down in the comments below!