Arsenal: Rob Holding return can really help Unai Emery's backline
Rob Holding has had an exceptionally tough year at Arsenal since injuring his knee back in December of 2018, missing 40 matches since that time.
However, after such a long layoff, it seems like the 23-year-old may be on his way back for the Gunners after he returned to training (via the Standard) this week.
In the time Holding has been out, his partner at the back, Laurent Koscielny, has departed and David Luiz has signed to help fix up the centre-back issue, whilst the drubbing at Anfield last week still shows leaks in the defence for Unai Emery's side.
So, with Holding on his way back, can he transform Arsenal's defence again? Here are two reasons why he can do just that.
CONSISTENCY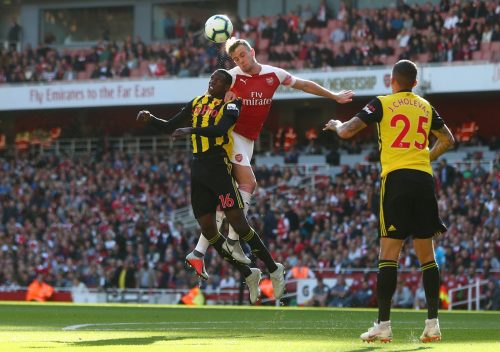 Rob Holding may not have set the Premier on fire since joining from Bolton Wanderers, but at the very least, the Englishman has remained relatively consistent since Arsene Wenger surprised fans with the signing in 2016.
Up until his injury last season, the ex-Bolton man averaged 1.1 tackles, 1.2 interceptions and 3.7 interceptions per game in the 10 Premier League matches he played [WhoScored.com], whilst also winning 21 aerial duels in that time (as per PremierLeague.com).
The former England U21 international is also comfortable with the ball at his feet, making 614 passes in the 10 games [PremierLeague.com], just 227 less than Laurent Kocielney who played 11 games more.
Holding looked sharp in Arsenal's U23 game recently and as the 23-year-old continues to get more game time under his belt, the more chance he has of finding himself at the heart of Arsenal's defence once more.
BUILD FOR THE FUTURE
With Ainsley Maitland-Niles just 21, Hector Bellerin 24, Sead Kolasinac 26 and Kieran Tierney only 22, once 23-year-old Rob Holding joins the side, Arsenal could field a very young defence and begin to build for the future; something they have not done at the back for many years.
David Luiz has come into this side this summer, but the 32-year-old has already been criticised for his performance in a Gunners shirt, whilst Sokratis Papastathopoulos is 31-years-old and barely a long-term option himself.
Once Holding comes back into the side, Emery should make him his priority and begin to build on this young, inspiring defence.