Aston Villa: Fans have their say on possible Premier League resumption
Many Aston Villa fans have responded to an article shared by Birmingham Mail editor Mat Kendrick discussing the return of the Premier League and the relegation battle.
The Midlands-based club will be nervously waiting for a decision on the remaining fixtures in the Premier League after many different claims predicting the outcome. Villa sit 19th in the league as things stand, with the coronavirus pandemic postponing games, and their top-flight future is very much in doubt just one season after gaining promotion via the play-off final.
Do you think Aston Villa will stay up?
Yes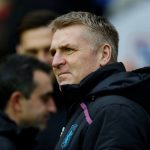 No chance
Discussing the potential of playing at 'neutral grounds', despite 14 Premier League clubs said to be in favour of the potential idea to go ahead, club official Christian Purslow revealed Villa's stance. Going against the idea of such a plan, citing Villa's home form, Purslow drew a mixed reaction from some of the club's fans.
Villa have a game in hand over relegation rivals West Ham, Bournemouth and Norwich City, perhaps making them slight favourites to beat the drop. Reacting to Kendrick's tweet, these Villa fans gave their thoughts on the matter…
It's all in danger of getting a bit messy – what do you make of this latest nonsense?#AVFC https://t.co/ST1Yldsh0Z

— Mat Kendrick (@MatKendrick) May 7, 2020
If 3 go down, two automatic in Championship come up??? Who gets the 3rd spot then??

— Dan Arrowsmith (@dan_arrow) May 7, 2020
If we'd played the same number of games, I'd accept points per game hands down, it's the fairest way…but that 1 game would make a massive difference

— Andrew Millington (@MillingtonVilla) May 7, 2020
They can vote for what they want. The salient point is we have a game in hand. Plus what has it got to do with the other teams anyway? No fans at the game? The @premierleague as a sellable product is worthless. I'm sure @AVFCOfficial lawyer's are raring to go!!!

— Richard Mills (@mills_rich) May 7, 2020
To many people have died, football, sadly seems unimportant as its body of power resemble a failing circus☹️

— Squidge762🦁 (@squidge7621) May 7, 2020
I think that is a load of rubbish. It would be a biased vote so no point

— David Barrett (@BarrettDave) May 7, 2020
I'm getting to the point of being past caring about the Premier League, it's a cess pit.

— Mark Ashmore (@mg_ashmore) May 7, 2020
get the best lawyer money can buy and sue the Premier League if they relegate us with a game in hand. Cancel the league, season void is the only solution

— Mish Rahman (@misba70) May 7, 2020
Do you think Aston Villa will remain in the Premier League next season? Let us know in the comments section below…