Aston Villa: Fans look back on Dwight Yorke's exit to Man United
Many Aston Villa fans have looked back on the sale of Dwight Yorke to Manchester United in 1998 on social media.
Born in Trinidad and Tobago, Yorke arrived in England having been scouted by former Villa boss Graham Taylor whilst he and his squad were on tour of the West Indies in 1989. The young striker would make an instant impact at Villa Park, spending nine years with the Midlands club which saw him score 98 goals in 287 appearances.
After netting 46 Premier League goals between 1995 and 1998, Yorke would gain interest from Man United, who were keen to rebuild their attacking line up at the time.
Do you think Aston Villa will stay up?
Yes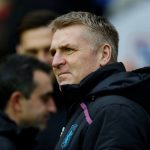 No chance
Yorke would move to Old Trafford in the summer of 1998, signing a deal which cost the Red Devils £12.6m. During his first season under the management of Sir Alex Ferguson, Yorke would go on to win the Champions League, helping United to beat Bayern Munich in the final at the Nou Camp.
Ending his career with short spells at Blackburn Rovers, Birmingham City, Australian side Sydney FC and Sunderland, the former striker now often works as a pundit for various media outlets.
Reacting to a tweet from Birmingham Mail editor Mat Kendrick, these Villa fans discussed Yorke's exit from the club…
I still haven't got over Dwight Yorke leaving Aston Villa if I'm honest #AVFC #MUFC pic.twitter.com/09UFeid8AN

— Mat Kendrick (@MatKendrick) May 6, 2020
Visited Tobago recently & the Taxi driver pointed out the Dwight Yorke Stadium. I nearly exploded with excitement. Then he said he played with him recently in a charity match. He has done so much for his roots. Tip Top.

— Chris Edgington (@Edge2112) May 6, 2020
This was the first transfer that genuinely made me feel devestated as a kid!

— Jonathan – writer (@jonathanwriting) May 6, 2020
At least you could understand the move. Man Utd.

David Platt left for Bari. That's far harder to get over; some 30-years ago and I still haven't forgiven him.

…… then he told Gareth Barry to leave Villa for a big club which meant I never will!

— .ten (@LH__ten) May 6, 2020
Same here Mat. I was 12 at the time. Absolutely broke my heart. Id been a season ticket holder since the age of 5. (Still am). At the time he left i couldnt remember my life before Yorkie. It felt to my 12 year old brain that a family member had died

— Dan Rainsford (@DanRainsford) May 6, 2020
100 times worse feeling than Delph for me!! Remember being heartbroken

— Ben Hughes (@benavfchughes) May 6, 2020
Some of you might have forgotten his last performance for villa at everton before he left. Gutted but I was glad he left.

Karma was when he tried to come back as manager and tried to sell himself as a villa man. Got laughed out of town

— ZNG AVF'C (@farria_c) May 6, 2020
He celebrated in front of the Holte after scoring for Blackburn too.

— Ricky Sanders (@piav86) May 6, 2020
Didn't he leave on 99 goals? Ugo & Southgate were tough ones. I always dreamt Barry would stay forever, Young & Milner impossible to keep. Delph? Was just weird & still think it didn't get enough national press coverage for the way he did it. Keep up the good work #avfc

— Karl Mason (@karlmase) May 6, 2020
Was Dwight Yorke's exit to Manchester United the most hurtful in your eyes as a Villa fan? Let us know in the comments section below…