Aston Villa: Kieran Maguire says stopping the league would be unfair to Villa
Kieran Maguire joined the Blood Red: Liverpool FC Podcast and talked about how ending the league as it is would be unfair to Aston Villa since they still have a game in hand.
Dean Smith's squad are in the danger zone and as things currently stand, they would be among the three teams going down.
Maguire, however, thinks that would be a big injustice to the Villans and for that reason, it would be for the best if the Premier League was resumed once the situation across the globe finally improves.
Here's what he said on the Blood Red: Liverpool FC Podcast (17/3/2020): "If the league was stopped now, that would not be fair on Aston Villa because they've played fewer fixtures than some of their rivals. So I think those would be the preferred alternatives here to get the matches finished, however long it takes."
What would you do with Dean Smith?
Keep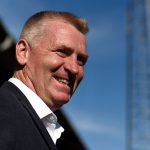 Sack
Aston Villa are currently two points behind Bournemouth, Watford and West Ham with the latter two being just above the relegation zone.
That means that getting the three points in that additional game they still have, depending on when it's played, would get them out of the relegation zone, but there's no way of knowing whether they'd actually be able to win it or not.
According to Maguire, however, letting the league finish is the best alternative out there.
Aston Villa fans, do you agree with Maguire's verdict? Do you feel you still have a chance of survival? Let us know down in the comments below!