George Best's  European Cup winner's medal, amongst a whole stash of collectables is set to go under the hammer.
In a statement released yesterday, George Best's sister Barbara McNarry said the prestigious trophies and medals
held many memories for his family and fans, but added there "was no alternative due to the financial status of the estate".
"I am absolutely devastated that the executor (of the estate] is having to arrange for the sale of George's trophies and memorabilia which hold so many memories for myself and his fans in Northern Ireland and indeed worldwide,"
said Mrs McNarry.
"But reluctantly, I have had to accept that there is no alternative due to the financial status of the estate.
"I regret that I cannot make further comment for legal reasons, other than to say that I am hopeful that the auction in Bonhams in October will be a financial success in the interests of all concerned."
Bonhams of Chester, who will auction the treasured items on October 20, say the European Cup Winner's Medal awarded to Best following Manchester United's 4-1 victory over Benfica in 1968 has alone attracted a pre-sale estimate of £90,000 to £120,000.
Best scored a goal in that game, which saw his team become the first English winners of the trophy.
The sale also includes a replica of the European Cup medal which was made for Best after he briefly lost the original.
Other lots include the 2002 BBC Lifetime Achievement Award, (Estimated at  £5,000 to£8,000) the Freedom of Castlereagh Award, (Estimated £4,000 to £6,000); and the 1994 Legend In Sport Trophy (Estimated£2,500 to £3,000).
In March 2009, a miniature replica European Cup sold for £2,600 at a sale at Wilsons Auctions in Belfast. The item was part of an auction of memorabilia collected by Best's father, Dickie, who stipulated in his will that both the family home and its contents be sold upon his death.
Devoted fans could even buy the Belfast Boy's family home. It remains for sale, over two years after going on the market. The terraced house on Burren Way in the Cregagh estate has been up for sale since August 2008.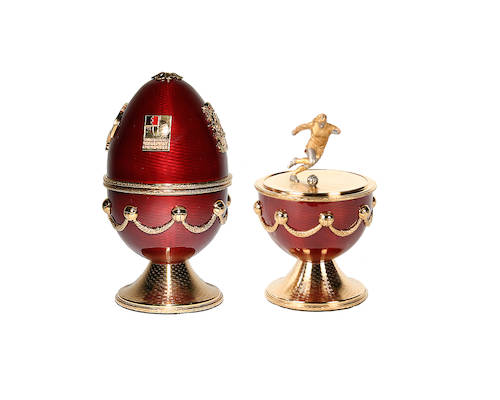 Another football-related highlight is a George Best Faberge Egg! (number 37 of only 68 produced – 37 being the number of games Best played for Northern Ireland), commemorating the part that Best played in Manchester United's victory in the 1968 European Cup against Benfica, Portugal.
Estimated at £15,000 – 20,000, the egg comprises a copy of a European Cup medal at the front, a football League Champions badge at the back and the official 1968 crest of Manchester United and Northern Ireland on either side.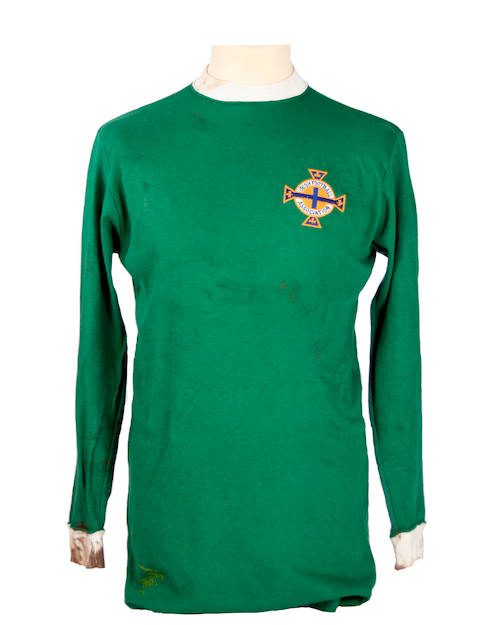 The sale also includes a George Best match worn NI shirt (Estimate £5,000 – 6,000), which was the last shirt worn by Best for Northern Ireland while a Manchester United player on 14 November 1973; Bobby Charlton's match worn shirt from an England international game (Estimate £1,500 – 2,000)
George Best's Footballer of the year 1968 Award is also available.
George was at his peak in 1968 not only playing a large part in the winning of the European Cup with Manchester United but was also the 1st Division leading scorers with 28 goals. (Estimate: £150,000 – 200,000)
Best died in 2005 following a long battle with alcoholism.