Chambers' Fulham loan has thrown Arsenal fans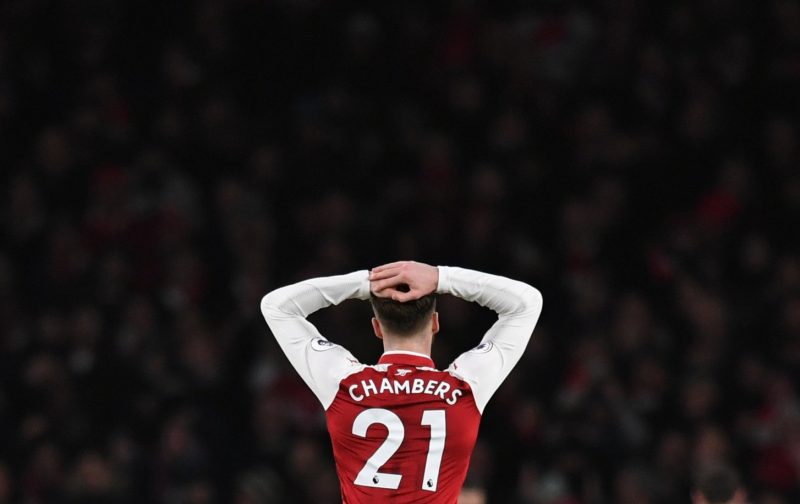 So far this summer has been a positive one for Arsenal. Unai Emery looks to have addressed the big issues with the current Arsenal squad. However, according to Sky Sports, Calum Chambers is set to move to Fulham on a season-long loan and the fans really aren't best pleased.
Fulham agree deal with Arsenal to sign defender Calum Chambers on season-long loan. [Sky Sports] pic.twitter.com/vNoMaXNDit

— ArsenalFanTV (@ArsenalFanTV) August 6, 2018
Calum Chambers was signed for Arsenal from Southampton with a view to the Englishman being one of the club's long-term defensive options. Most of the fans are keen to see Chambers get first team minutes and there's a lot of positive feeling amongst the fans for the young centre-back options at the club with Rob Holding and Konstantinos Mavropanos also being a popular young player at The Emirates.
However, Emery obviously knows what he's doing and his decision to see Chambers off to Fulham will come with it's benefits. At Craven Cottage there is less pressure to perform as the expected standards are obviously lower than what they are at Arsenal. At Fulham Chambers will also be getting a lot more time in the starting eleven than he would have done with the Gunners, so whilst the fans may not be pleased, in the long run, this looks like a positive move.
You can read the Gooners' thoughts on the Chambers loan here:
Should have been Holding. Chambers has been excellent in pre season. Actually fancied him to start vs city with Sokratis.

— Michael Simonsen (@MichaelJonesFIT) August 6, 2018
Wish him all the best! I want him to have a great season there! Hope he will come back next season and take back his place.

— Kolawole Sanni (@trueglobalv) August 6, 2018
This makes absolutely zero sense.

— Christian Silvestre (@csilvestre09) August 6, 2018
Disagree with this move! Had a good pre-season and played well when subbed on at right back for Hector against Chelsea. I think Holding should be the one going out on loan, hasn't been the same since the FA cup victory in 2017. New centre half incoming?

— Darragh Kelly (@Darraghk2103) August 6, 2018
Why would u loan him when We are already have short on defence unless Emery sign some one before transfer window close hope we sign Vida #afc #Arsenal

— pklove(diehard arsenal fan) (@pklove149) August 6, 2018
Brought emery to build.. He is breaking..

— daktal warren (@DaktalW) August 6, 2018
So surly we are looking at bringing a defender in then????

— Harry Bullock (@Goonerhazza1987) August 6, 2018
The feeling isn't good amongst the fans with this one and they'll be keen to see a new defender brought in if Chambers loan move does go ahead.