Chelsea
Chelsea fans are seriously impressed by the form of Callum Hudson-Odoi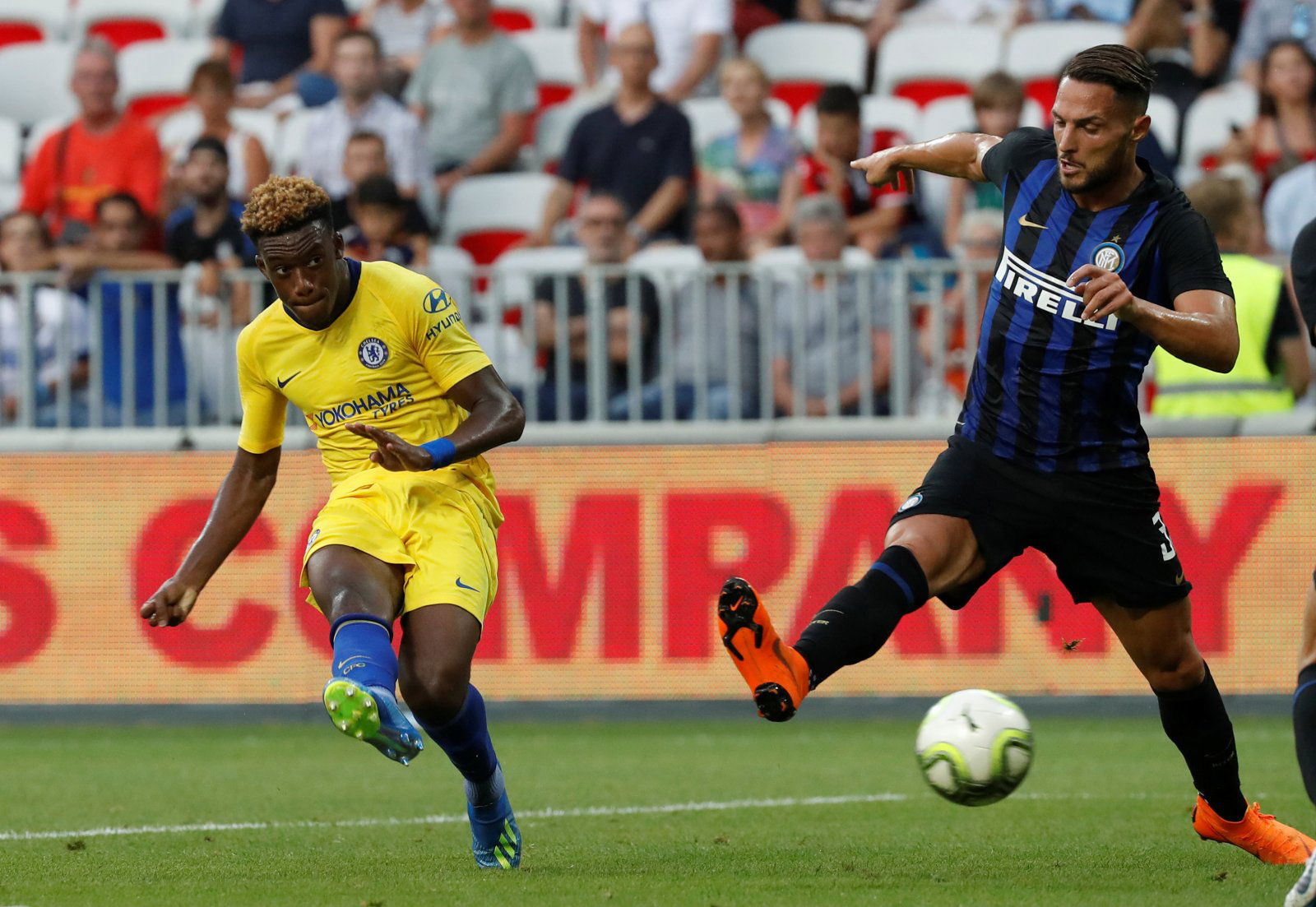 Chelsea's game against Arsenal may have ended in disappointment, but there was a lot to be excited about for the onlooking Blues. It's clear that their shift in style – from Antonio Conte's slow and calculated method into Maurizio Sarri's quicker and more dynamic style – is well underway, and that showed on Wednesday.
Players were moving the ball quickly and producing engaging play going forward, and that's something that's only going to improve.
Another thing that's likely only going to improve is the form of young Callum Hudson-Odoi. The 17-year-old started his third consecutive pre-season game on Wednesday, and he certainly delivered.
He was a menace down the left-wing, and Hector Bellerin really struggled to contain him throughout the match. He also earned a penalty after he was taken down after some tricky work in the box.
The Englishman has, simply put, been sensational throughout the summer – and it's clear that Chelsea have something special.
Unsurprisingly, the delight coming from Chelsea fans online is evident, with many fans taking to Twitter over the last day or so to heap praise upon him.
Take a look at what they've had to say below…
We should start Bulka and Hudson-Odoi against City in the community shield. We have nothing to lose, might as well give our best performers from pre-season the chance they deserve!

— Nived (@ChurchOfThibaut) August 2, 2018
Callum Hudson Odoi remember the name!!! His going to be PFA young footballer of the year!!! Remember my tweet!!! #CFC @Calteck10

— Chelsea FC Fan Club (@ConteBlueArmy) August 1, 2018
Dont loan Hudson-Odoi out
Dont loan Hudson-Odoi out
Dont loan Hudson-Odoi out
Dont loan Hudson-Odoi out
Dont loan Hudson-Odoi out
He's ready. #CFC

— Nicholas Lisewsky (@NLisewsky) July 23, 2018
Hazard one side, Hudson-Odoi the other? Has to be. Surely. #CFC

— Olivia Buzaglo (@OliviaBuzaglo) August 1, 2018
Dear Eden Hazard, remove that mask of Hudson Odoi. We're convinced it's you. #Hazard #CFC #ARSCHE

— Chelsea Edits (@chelsea_edit) August 1, 2018
Callum Hudson-Odoi #CallumHudsonOdoi.
This kid is good! #CFC

— B. (@BattistaOmondi) August 2, 2018
Callum Hudson-Odoi is world class #CFC https://t.co/Pfo6fZuiNm

— King Mo (@Mo_Medi) August 2, 2018
How good did Hudson-Odoi look last night? That boy best be in Sarri's plans this season. @ChelseaFC got a little gem there #Baller #CFC

— Nathan Manning (@manning91) August 2, 2018
Hudson-Odoi is far far better than Loftus-Cheek in my own opinion and he's just 17……The lad is destined to be among the best in the nearest future. #CFC

— Bridge News (@cfc_wale) August 2, 2018
Hudson-Odoi has to start on Sunday #CFC #CFCinDublin

— Matt (@2GoalIvanovic) August 1, 2018
Chelsea fans – thoughts?
Let us know below!