Chelsea fans have a message for Eden Hazard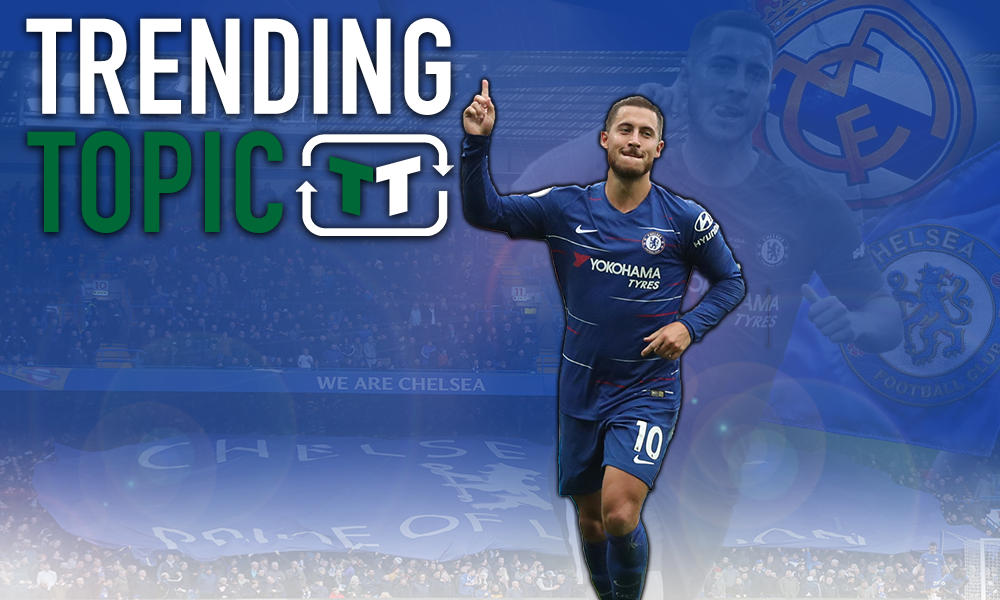 It's fair to say that Eden Hazard is a very popular man at Chelsea at the moment. The Belgian has enjoyed a brilliant start to the season under Maurizio Sarri, and he's undoubtedly one of if not their single most important player.
It's no surprise, then, that Chelsea fans are seriously worried that he might leave.
Hazard recently said that he may need to go to La Liga in order to win the Balon d'Or, and that's left many Chelsea fans online fearing the worst.
The main man in the Chelsea attack, everything that Maurizio Sarri has done at Stamford Bridge this season has gone through Hazard, and if he left it would be back to square one for the Italian boss.
Unsurprisingly, then, many Chelsea fans online have a message for Hazard – please don't go! One fan is even citing the great John Terry by calling for him to stay at the club and become a legend like the former Chelsea captain.
Take a look at what Chelsea fans have had to say below…
Since Hazard comments came in , I haven't felt good about myself .. I don't want to see him leave . We love him

— Andreas (@JTyoung26) October 12, 2018
@hazardeden10 please don't go to Real Madrid, we want you to stay and become a Chelsea legend, just like John Terry. Don't leave Chelsea please. @ChelseaFC @CesarAzpi

— Ivan Assado (@real_nobert) October 12, 2018
@hazardeden10 don't leave bro we need you

— syezids (@syezids) October 11, 2018
@hazardeden10 pls don't leave. Thanks

— Jake (@JacobBedi) October 11, 2018
If Eden's Happy, We're Happy.
but don't leave, @hazardeden10 Pls STAY!!

— why am i ended up here? (@bk4jnesiz) October 11, 2018
Don't leave me @hazardeden10 https://t.co/vA3IhtfHGJ

— Jammy Hazard (@jmoney268) October 11, 2018
@hazardeden10 don't ever leave chelsea, you don't need a spain move to win the Ballon d'Or, you can do it with Chelsea aswell. Goat

— Sander (@Sandaah17) October 11, 2018
Chelsea fans –  thoughts?
Let us know below!