Chelsea: Fans react to Christian Pulisic and Alvaro Morata comparison
After some claims that Christian Pulisic could follow in the foot steps of Chelsea flop Alvaro Morata, supporters have came out to voice their opinion on the matter. 
Does Christian Pulisic deserve more minutes at Chelsea?
Yes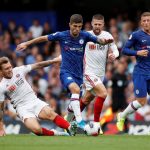 No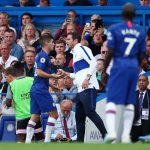 I've started to see it creep into conversations where people are comparing the mentality of Christian Pulisic to that of Alvaro Morata.

Simply, this is not the case, and here is why, for @talkchelsea …https://t.co/uIrDQqOtwA

— Simon Phillips (@SiPhillipsSport) October 16, 2019
The American midfielder has had a less than steady start in Chelsea blue despite grabbing two assists his only three league outings for the club, with the player struggling for game time.
Off the back of a bad night for the 21-year-old in the USA's first loss to Canada in 34 years, a match where he was substituted feeling 'flu-like symptoms', some have come to the conclusion that he could be another Morata in the making.
Having looked slightly off so far this season, a handful of supporters are now questioning his mentality – drawing the Morata comparisons.
The Spanish striker left Stamford Bridge for Atletico Madrid last season having scored just 16 goals in 47 league appearances.
Most Chelsea fans jumped to the defence of Pulisic, insisting he will be much better:
"He is a guy who just LOVES to play football, that's what he's here for. Being subbed off when his team were in trouble is bound to upset him, and for me that's good to see and just shows even more what he is about. I'd rather that than a player who didn't care." Well said 💙💙 pic.twitter.com/TC44MgDd64

— Kristen 💙 (@KristenPulisic) October 16, 2019
People should stop talking about him, and leave him to get better. he will be fine.

— C10410511611497 (@C10410511611497) October 16, 2019
Good article. Only issue is I've seen so many say he was crying last night. You can see in the video he was just frustrated/angry. When he removed his hands from eyes, he wasn't crying. People do that when frustrated. UTC.

— Brent Matthews (@BrentMatthews17) October 16, 2019
Nobody can be worse than Morata
Pulisic will become an important player for Chelsea soon

— Yadu krishnan kk (@YADUCFC) October 16, 2019
Not even close. Pulisic is mentally stronger.

— T Radu (@tradu81) October 16, 2019