TT Predicts: Chelsea vs Manchester City
A lot rests on tonight's clash between Chelsea and Manchester City and both sides will be pushing hard to claim all three points.
Not only will Pep Guardiola's side be looking to extend their lead over Leicester, but Chelsea have their sights firmly set on banking Champions League football next season. Another team will also be watching this fixture like a hawk, as Liverpool will be crowned Premier League champions if City come away with anything but a win.
Both sides look strong on the attacking front as they come into the game off the back of victories, although Man City's 5-0 domination over Burnley could pen them down as favourites.
Should Chelsea keep or sell Olivier Giroud?
Keep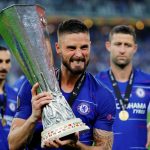 Sell
Ahead of what promises to be an entertaining match between two top sides, Transfer Tavern have predicted how they think the game will unfold.
Georgia Goulding (1-1)
Liverpool fans will undoubtedly become blue for a day as they watch with bated breath. Anything but a win for the reigning champs will see the Reds snatch the crown and their first ever Premier League title. Not that Chelsea owe them any favours, but Lampard and his side could catch City with their pants down.
The Cityzens have the better team on paper, boasting frightening squad depth and the luxury of an ever-changing lineup. However, Chelsea have more to fight for and their team spirit at the moment is sky high. I think they have enough to grab a result, and a draw would be a big statement from a team in transition.
Adam Clancy (2-2)
This is perhaps a bigger game for Liverpool than it is for Chelsea or Manchester City. The Reds can finally win the title if City drop points, and I can see it happening. Jesus is a good player but he is no Aguero, who will be missing. Pep might rotate again as well, and Lampard will want to make a statement. This is due to be a cracking game whatever the result, but I will go for a draw.
Liam Togher (2-1)
Man City have perhaps looked the slickest of any team since the Premier League restart but Liverpool's stroll against Crystal Palace may have sucked out any remaining life that City might have had of potentially putting up a late charge to frighten the champions-elect. Also, Guardiola's men have often alternated between emphatic wins and momentum-stalling defeats this season.
Chelsea looked good against Aston Villa despite their first half scare and have the attacking weaponry to leave City with a bloodied nose, as they did in this fixture last season. Lampard's team will boost their top four chances with a win here that will get the champagne corks popping on Merseyside.
Jonathan Radcliffe (1-1)
This should be an intriguing game. It will be the first at Stamford Bridge without any fans, so the Blues will have little home advantage to speak of, but they showed resilience against Aston Villa that will give them hope of grabbing something here. City, meanwhile, have been supreme since football has returned, scoring eight times and conceding none.
Chelsea will need to be watertight at the back – something which they have often struggled with this season – whilst Guardiola's men will need to be vigilant of a side who have a lot more to play for than City do right now. I see this being a hard-fought draw, with Liverpool being the real winners as they are crowned Premier League champions as a result.
How do you think the game will play out? Let us know your thoughts in the comments below!