Chelsea have a problem in their midfield, and it's one that the club can no longer ignore. N'Golo Kante offers the perfect balance of defence and attack, but beyond the ardent Frenchman, Chelsea have very few options. Ross Barkley hasn't had a good start to life in SW6, Tiemoue Bakayoko looks a different player than the one that turned out for Monaco, and Danny Drinkwater has been even more ineffective than even the most cynical of Chelsea fans expected. Perhaps the biggest problem for Chelsea, though, is in the form of Cesc Fabregas. The Spaniard has been at the core of all of Chelsea's success since he moved to the club, yet over the last year or two, his influence has reduced. No longer is he the pass-happy creator that made the likes of Arsenal, Barcelona and Chelsea tick. Instead, he has been replaced by a 31-year-old that labours around the pitch and reduces the speed at which the club can move forward.
Replacing him and finding Kante a viable partner, then, must be priority number one for Chelsea, and they could have found the perfect solution in Russian midfielder Aleksandr Golovin. According to the Sun, Chelsea are interested in sealing a move for him – and what a deal it would be.
At the heart of Cesc Fabregas' playstyle in recent years has been his ability to manipulate the ball in whichever way he sees fit. He's always been a technical master, but at Chelsea, he found new life in becoming the midfield technician – the Spanish Andrea Pirlo, if you will. However, age has crept up on him without warning, and not only has it impacted upon his mobility and agility, but it's also made him far less effective with the ball at his feet. Chelsea, then, would be wise to bring in an alternative option – and Golovin could provide what they're looking for.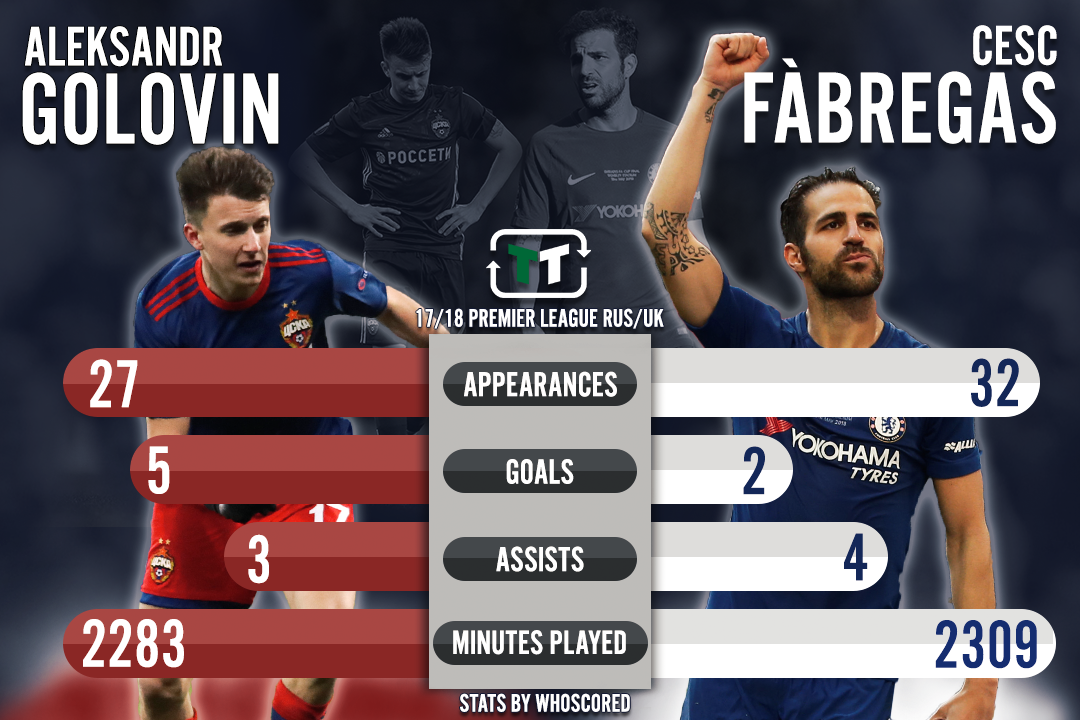 The Russian, like Fabregas in his pomp, became the focal point of the CSKA Moscow first team last season. Primarily playing in central midfield, he impressed with his brilliant passing and technical ability – and he became very much the midfield talisman of this team.
Granted, he picked up 1 less assist than Fabregas last season – three in contrast to the Spaniard's four – but he did so in fewer minutes, and so you can forgive him for that.
The Russian's qualities aren't limited to his passing though. He's able to play both in a deep-lying midfield position and further up field, whilst he's also comfortable on the flanks. Naturally, these positions demand more than just an ability to pass well. He's quick and mobile, and that allows him to drive forward with force and desire. He's also got a fantastic shot on him, particularly from set-pieces, and he's able to deftly strike and manipulate the ball with ease, and that makes him a very useful offensive asset.
His effectiveness in front of goal is highlighted by his goal tally last season, which came in at five – more than double that of Fabregas. Chelsea lacked goals last season, and so that's an important stat to note.
Let's not forget, the Russian has all of this talent – despite being just 22-years-old. In relative terms, he's a very young player, not to mention the fact that he's currently playing for a small team in the context of European quality. You'd imagine him to develop significantly at a team like Chelsea, and particularly alongside someone as impressive as N'Golo Kante.
Is this the best World Cup ever? Give us your thoughts here
Golovin is far from the finished product. Indeed, he's still mid-way through the cooking process – but Fabregas is way past his best before date, and so for Chelsea, the solution is obvious. The Blues need to rebuild and look to the future, and Golovin offers their most optimistic outlook.
Chelsea fans – thoughts?
Let us know below!