Crystal Palace: Fans discuss former player Tom Soares
A lot of Crystal Palace fans have been discussing former player Tom Soares after one supporter started a debate over him following a post on Twitter.
The midfielder came from the South Londoner's youth academy and made his debut in 2003, via Transfermarkt. He would end up staying at the club for six seasons from 2003-2008 before moving to Stoke, but during his career at the Eagles, he managed to make 149 appearances, and scored 10 goals whilst also providing 10 assists along the way.
Was Tom Soares a hero or zero during his time at the club?
Hero
Zero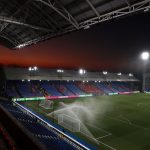 Soares did not set the world alight during his career and ended up playing for multiple lower league teams including AFC Wimbledon and Bury. At the age of 33, he is still playing football for League 2 side Stevenage and has managed one assist in 15 games this campaign.
It seems like Palace fans agree that he wasn't a total failure nor a total success during his time at the club and it was the best thing for all involved for the player to move on at the time.
Here is what fans had to say following the tweet:
https://twitter.com/WhyteleafeEagle/status/1256854817043025920?s=20
Zero I'm afraid. Cant believe we got £1.25m for him but cant remember him shining in any game he played for us.

— Andy Lucey🦅🔴🔵 (@andy_lucey) May 3, 2020
I liked him, but, not a hero…

— Ian Griffiths (@33nAthirdBuddha) May 3, 2020
Absolutely zero, run up and down the pitch for 90 minutes doing absolutely nothing. With that engine he would have had a better career as a long distance athlete rather than a footballer.

— WARREN GUEST (@WARRENG39) May 3, 2020
In between. Never knew his best position. Was quick but not skillful enough for a winger. And disappeared in the midfield. But scored a few.

— Fan of the Year 2020 (@MarcWilliams22) May 3, 2020
Absolute zero for me, gutless not just in the tackle but also when we had the ball.
The worst thing a player can do is not demand the ball.
I always remember that when Stoke came in with a couple of million for him Warnock drove him to the Brittania himself .
Neil knew….

— Balgeagle78 (@ARJW78) May 3, 2020
Really liked his athleticism, but didn't reach his full potential imo. So with regret a zero for me.

— Stephen Rodin (@StephenRodin1) May 3, 2020
Palace fans, who is the best player to come out of the academy? Comment below!