Liverpool are set to embark on a crucial few months. The Reds are in the midst of a title challenge at Anfield, with Man City and Tottenham also in the mix.
It's been a remarkable season for the club, and of course, it could be about to get even better. If they're able to seal the Premier League title, Jurgen Klopp's men will go down as a historic group of players at one of Europe's most historic clubs.
However, for some, their spell at Liverpool may culminate this season, and for one player, that could come as a result of an impending return.
A recent report from the Telegraph has indicated that Liverpool are hoping for Alex Oxlade-Chamberlain to be back in action by April, with the midfielder seeking to return from an injury sustained last term. 
That means that he could have an impact this season, but realistically, the Reds will be looking to get The Ox back into the team with a long-term vision. Next season, certainly, you'd expect him to become a regular once more.
Significantly, though, in his absence, Liverpool's midfield has been upgraded in a big way, and so there could be too many bodies available for Jurgen Klopp. As a result, perhaps a big sacrifice could be forthcoming, and Adam Lallana seems like an obvious casualty following the return of Oxlade-Chamberlain.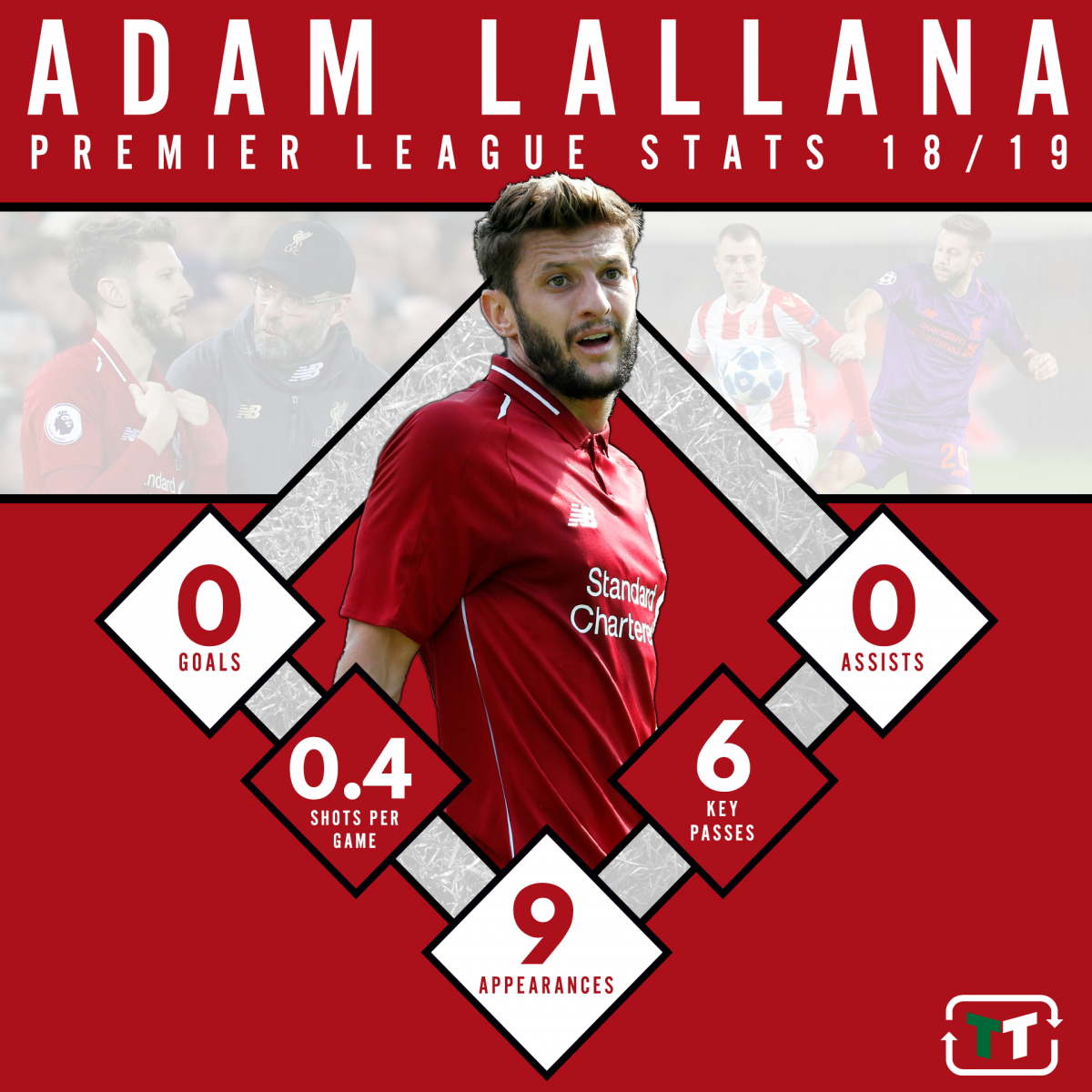 Of course, Lallana's been on a tough run of form over the last few years, with the Englishman succumbing to the numerous injury problems that he's been dealt. Early on in Jurgen Klopp's reign, the midfielder looked like the perfect player for the club. He was hardworking, he was technical, he was quick, he truly had it all. However, since that point, it's all been downhill.
He's actually been unavailable for much of Jurgen Klopp's tenure, and when he has been fit, he just hasn't looked good enough. Barring a couple of strong moments from him, the majority of his game time this season just hasn't resulted in much of anything. Indeed, as per Who Scored, he hasn't picked up a single assist so far this season, whilst his passing and shooting stats aren't much better. Obviously he's still a talented player, but it's clear that Lallana is just a little bit below the level required at Anfield.
It wouldn't have been a surprise to see him leave the club last summer or, indeed, in January – but it wasn't to be. He still does have a role to play at Liverpool, as proven by his start last weekend, but upon the return of The Ox, the reality is that his opportunities will only dissipate further. He's only managed 3 league appearances this season as it is, and that's not good enough for a player of his experience.
Could he still do a job in the Premier League? That makes sense, but for Liverpool at present, he's nothing more than a rotational option. He may well lose that role when Oxlade-Chamberlain returns, and so at that point, a departure must be on the cards.
Thoughts?
Like what the TT have on offer? Sign up for more notifications!