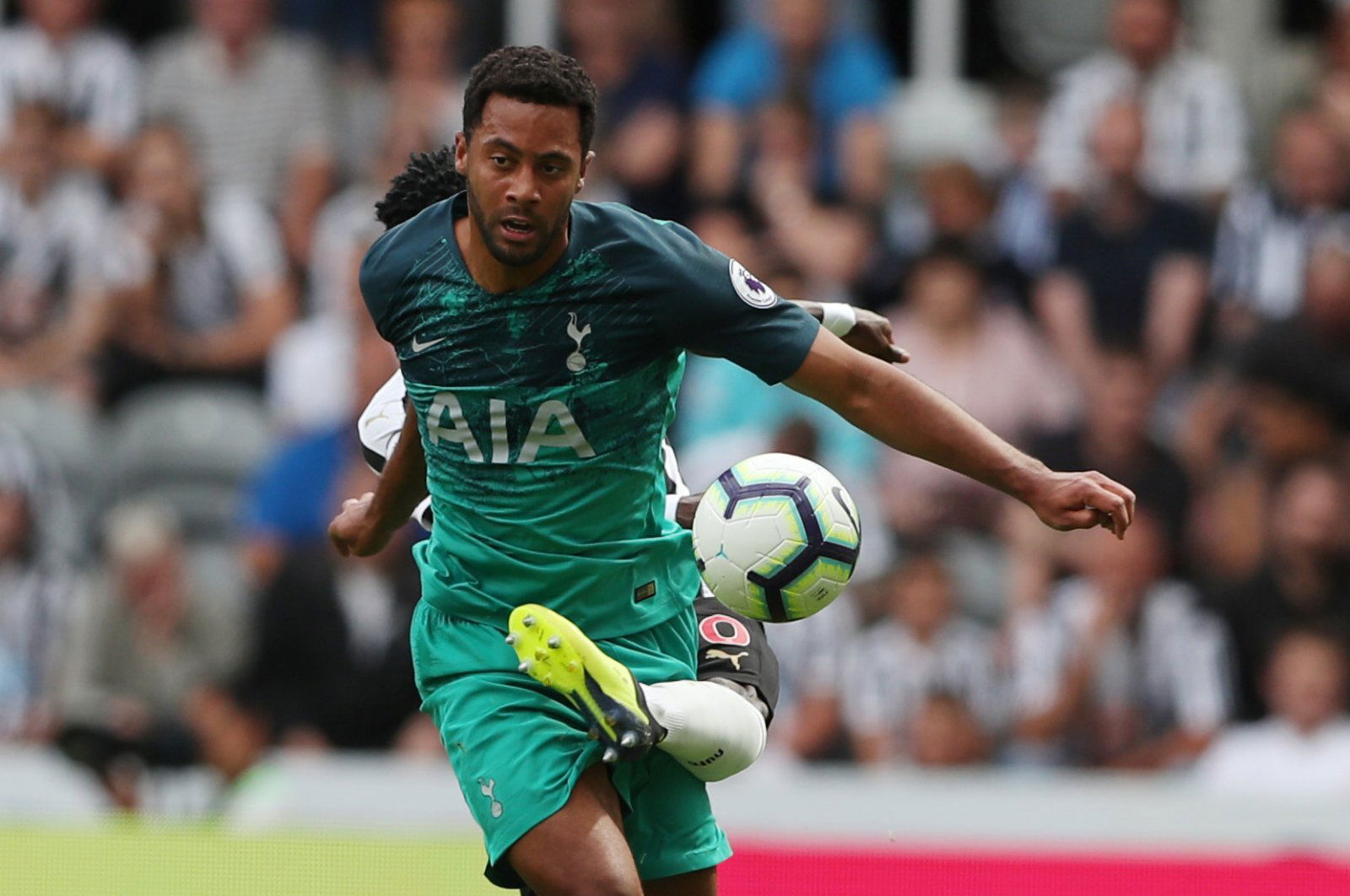 Mauricio Pochettino has had to face some serious challenges since he arrived at Tottenham. The Argentine came with a strong pedigree, but the size of the task at hand when he joined was sizeable, and since that point, expectations have only grown.
Based on his own success, Tottenham are now expected to compete at the highest level both on a domestic and a continental stage, and that naturally makes Pochettino's job harder. However, on top of that, he's also expected to make such an impact despite a relative lack of investment, at least when compared to many of his rivals. Daniel Levy has always been hesitant to spend big, both on transfers and wages, and that has unsurprisingly had an impact. Whilst the likes of Chelsea and Man Utd have been able to storm ahead and spend freely, Pochettino has had to compete with a comparatively limited budget.
He's also had to deal with other things, like building a young squad with relatively little experience, whilst Daniel Levy's expectations will no doubt have been on his shoulders the entire time.
Fast forward to 2018, and Tottenham's goals remain complicated. A title challenge is expected this season, and they're expected to impress throughout the campaign. It's been so far, so good for Tottenham on that front, but problems could be on the horizon.
One immediate issue that Pochettino is facing comes in the form of the future of Mousa Dembele. Dembele has been linked with a move to China over the last few days, and whilst he may be a prime candidate to leave the club from the perspective of fans, you simply cannot underestimate the impact that a departure may have.
However, the reality is that Pochettino's problems at Tottenham only begin with Dembele. He's facing a stiff test to keep his team competitive – given that it's tough to say how many of Tottenham's current crop of players will be at the club in a year or two. Tottenham's problems go far deeper than how they seem on the surface.
Mauricio Pochettino has a seismic task on his hands both on and off the field, and it's one that he's yet to even touch the surface of.
Losing Dembele alone is a major concern for Spurs. He's one of their most important players, and Mauricio Pochettino really trusts him. He regularly delivers excellent performances in the midfield, and there have been days where he seems to be everywhere, with two or three copies of him running at either end of the field.
Regardless of his recent dip in form, that presence remains, and dealing with losing him is a major concern for Spurs. However, that's just the start for the club. Indeed, even in January, further issues could arise.
Looking at both Toby Alderweireld and Danny Rose, they are two players that, in the past, have looked set for an exit. Danny Rose previously spoke to the Sun about his ambition and desire to be rewarded financially for his quality, whilst Toby Alderweireld was linked with Man Utd over the summer, and so the prospect of either player departing isn't outside the realms of possibility.
In the case of Toby Alderweireld, in particular, Spurs won't want to risk losing him cheaply next summer when his release clause comes into play, and so a January transfer certainly is plausible. He'd be just as tough as Dembele to replace, if not more so. He's been the main man at the back for Tottenham for a while now, and his resurgence this season has highlighted everything that Tottenham lacked when he wasn't playing last season.
Though Rose is perhaps less of a significant loss, it would still be a blow for him to go, regardless of how impressive Ben Davies has been as of late.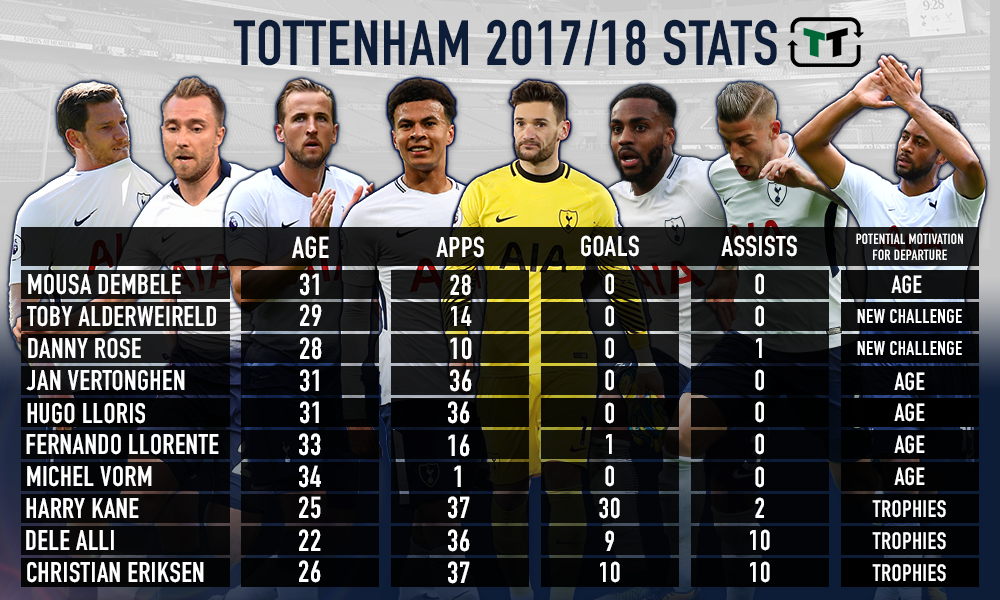 Yet, Tottenham's problems go deeper still. They've also got to contend with a squad that is quickly beginning to age. Tottenham have always been viewed as a young team, and to a certain extent, they still do have that. However, there are a core group of players that are quickly reaching the twilights of their respective careers. Jan Vertonghen and Hugo Lloris are perhaps the most prominent examples of this, given that both are 31-years-old. They're no longer the plucky 26 or 27-year-old players that had their best years ahead of them. Indeed, they're both amidst, or indeed past, their best years, and so it's only a matter of time before they look to hang up their boots. Granted, Hugo Lloris should have a few years yet, but with 5 errors leading to a goal last season, the Frenchman has shown signs of a decline.
Then there are fringe players like Michel Vorm and Fernando Llorente. Neither are regulars in North London, but the roles that they play are still important, and if they were to depart, they would certainly need replacing; and neither spot is easy to fill.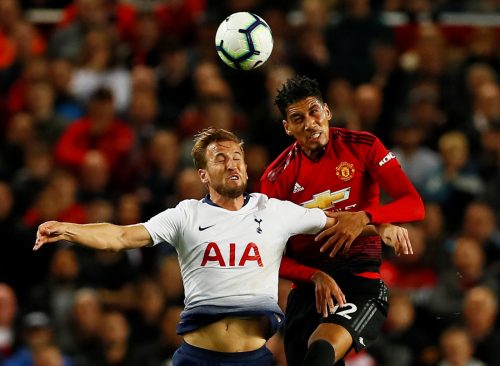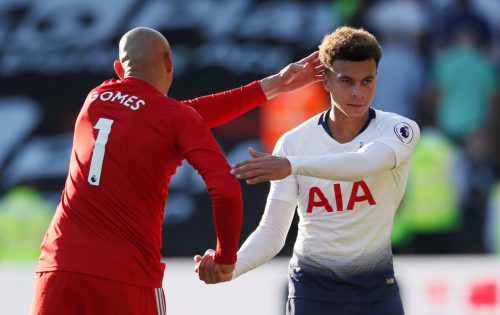 Then is perhaps Tottenham'ss biggest issue. The likes of Dele Alli and Harry Kane are amongst the best in the world in their respective positions, and it's a challenge in of itself for Mauricio Pochettino to keep them happy. This is an issue that he's always going to contend with until Tottenham are amongst Europe's best – and with very few trophies to shout about, they're a long way from that.
They could be motivated to leave the club if a team like Real Madrid, Barcelona or even Man City came in for them, as that would offer them things they aren't getting at Spurs, notably a higher wage packet and the prospect of winning trophies.
So why is this such a defining period for Mauricio Pochettino? Well, all of the aforementioned issues are significant alone, but collectively, they represent something that could very well live to define Mauricio Pochetino's reign at Tottenham. Not only might he have to contend with a major departure or three in January, but he also, in the background, simply must consider plans for the future with regards to a number of his crucial players. More importantly, though, he has to do all of this – contend with major departures and plan for the future – whilst also placing much of his attention on the present. In truth, he may not have a future at Tottenham if he doesn't start to win things, and neither could Harry Kane or Dele Alli, and others, if they decide that enough is enough.
So, we come back to Dembele. Losing the Belgian, on his own, is something that Spurs can get past. But sorting out his future is just the start. The real task lies in the weeks, months and, indeed, years thereafter. Mauricio Pochettino has a seismic task on his hands both on and off the field, and it's one that he's yet to even touch the surface of.
Tottenham fans – thoughts?
Let us know below!
Like what the TT have on offer? Sign up for more notifications!